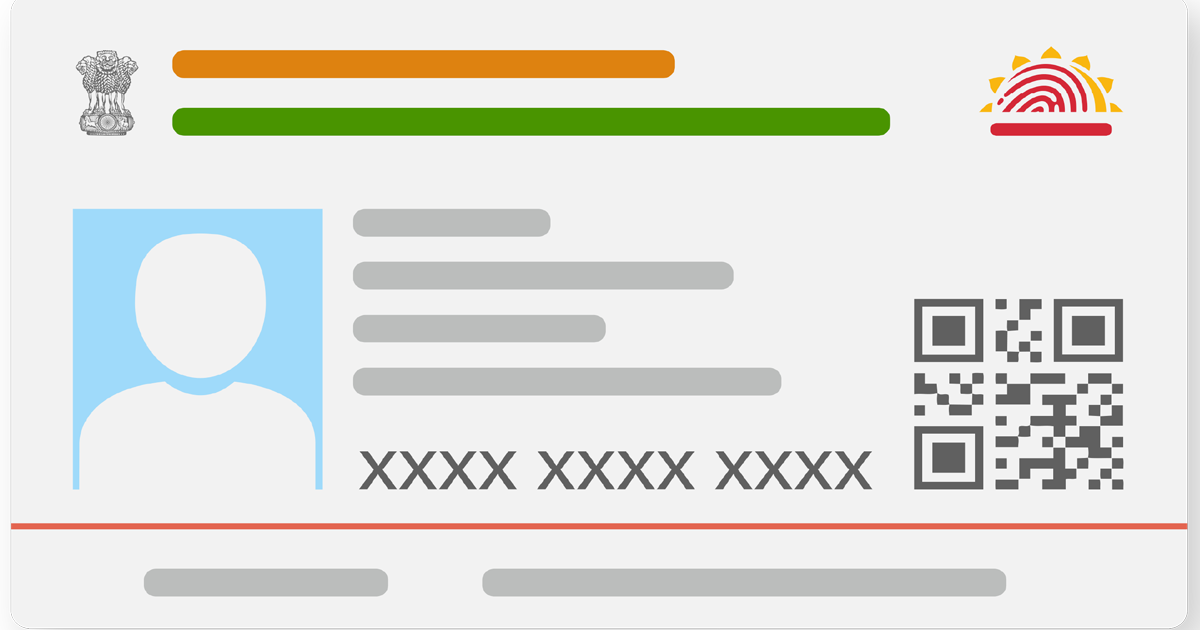 Before applying for a personal loan on Aadhar card you should know something about Aadhar card. The Indian government established the Aadhar Card on 29 Sep 2010 to provide citizens with access to a limited number of services from both the corporate and public sectors. After collecting fingerprints and retinal scans, the Indian government provides each individual with a unique 12-digit number known as an Aadhar.
An Aadhar card has become one of the most required forms of identification for Indians citizen. It can be used as identification to submit tax returns, create bank accounts, purchase SIM cards, obtain passports, and make loan applications.
Every adult's life eventually includes a period when they must spend a sizable sum of money on personal items. These can range from a wedding reception to a medical emergency. You need a lot of money, which is a regular aspect of personal expenditures. Others may not have the privilege, even though some people have the resources to cover their personal expenses. In light of this, many people opt for an instant personal loan on Aadhar card from reputable financial institutions.
lendingplate Eligibility Criteria for a Aadhar Card Loan:
As per RBI report on dec 2022 there were approx. 9471 NBFCs registered with Reserve Bank of India. Eligibility criteria to avail a personal loan of different lending institutions may be slightly different or similar. For lendingplate you should have the following eligibility to avail an Aadhar card loan:
Eligibility
Citizenship
Indian
Age
21 Years or older
Minimum Income
₹20,000/Month
Employment
Self-employed with regular salary credit in bank
Credit Check
Yes
Document Requirement to Avail an Aadhar Card Loan
Do not wait since you can apply for an Aadhar card loan without providing your pay stubs. Submit these documents as soon as you meet the eligibility requirements. You will receive a personal loan approval decision more quickly the sooner you give your lender these supporting documents.
Documents Required
ID Proof
Aadhar, PAN
Address Proof
Aadhar, Utility Bill, Bank/ Credit Card/ Home Loan Statement, Rent Agreement
Income Proof
Bank Statement, Employer ID, Payslip, Work Email
Benefits of Aadhar Card Loan from lendingplate:
lendingplate is registered NBFCs w which provides a personal loan up to 2 lacs depending on customer's eligibility and needs.
There are following are the benefits of an Aadhar card from lendingplate.
| | |
| --- | --- |
| Affordable Interest Rates | Start from 2.5 % - 3% per month with EMI |
| Collateral Free Loan | You don't need any collateral to avail this loan |
| Flexible Loan Amount | Avail a personal loan up to Rs. 2 lacs |
| Freelook Offer | Return your loan amount in first 3 days. You don't pay any fees. |
| Instant Approval | Eligible candidate can get instant loan withing 1 hour |
| Build Credit Score | A personal loan on Aadhar Card helps you to build a good credit score |
It is recommended to apply for Aadhar card loan when you need a specific amount of money to finance a home remodelling project, a medical emergency, or wedding festivities.
Five advantages of obtaining a personal loan from a lendingplate are listed below:
1. Affordable Interest Rates
One of the most important factors that a customer considers is the interest rate. lendingplate provides personal loan with minimal interest rates of 2.5% - 3% per month. This is the best option to apply for an instant loan for emergency needs.
2. Requires No Collateral
The fact that a personal loan is an unsecured credit is another important feature that can work in your favour. This means that while applying for a personal loan using your Aadhar and PAN card, you are not required to offer any kind of collateral. People can easily obtain immediate personal loans using their Aadhar and PAN cards for this reason.
3. Flexible Loan Amount
lendingplate is providing a personal loan from ₹ 10,000 - ₹ 20,00,00 depending on customer's eligibility and needs. The loan amount depends on your monthly salary.
4. Raise Your Credit Rating
When you take out a personal loan and promptly pay back the principal and interest, your credit score will significantly rise. You will be able to easily obtain approval for loans in the future as a result. Your creditworthiness will rise as a result of on-time EMI payments.
5. Little Documentation is Required
You can obtain a fast loan without any paperwork for personal costs. Your Aadhar card, PAN card and salary slip are the things needed for a personal loan to be granted. As a result, the documentation process as a whole is quick and easy to complete.
We can comprehend why loans on Aadhar Card have become increasingly popular and in demand in recent years as we consider their many advantages. Several banks and other financial institutions have simplified and sped up the personal loan application and paperwork processes on their end. The typical lag between needs for the same has also become shorter. The qualifying standards for personal loans are quite straightforward, and you would be accepted for a sum that corresponds to your income based on your current pay or your income over the previous three years.
lendingplate Procedure to Apply for an Aadhar Card Loan
The necessity of an Aadhar card for a personal loan has grown recently. This is due to the fact that it is now accepted as a form of identification and evidence of address for a person. A PAN card functions similarly as a valid source of income documentation.
Follow the below instructions to avail a personal loan on Aadhar Card:
Visit official website: lendingplate.com
Click on "Apply Now" button which will redirect you on "Personal Loan" page
Verify your contact number with an OTP
After OTP verification fill the required form with the listed documents and submit your loan request.
If you are Android user, you can directly apply through lendingplate personal loan app which is available of Google Play Store. Download the personal loan app and follow the instructions to apply for loan.
Impact of Aadhar Card on Personal Loan
People must present their Know Your Customer (KYC) documents in order to use any financial services. The government has ordered that banks and other financial institutions collect client KYC information in order to combat money laundering. KYC used to involve a tonne of paperwork, but it can now be completed quite rapidly. Banks have also started using e-KYC, which totally digitises the KYC process. As a result of Aadhar's access to the individuals' biometric data, verification is a simple and rapid process.
Personal loans are subject to stringent validation and verification procedures at both private and public sector institutions. Obtaining a loan used to require the applicant to submit a lot of paperwork, and the approval process took a long time. However, following the introduction of Aadhar Card loan, fewer documents are required, and the time it takes for a loan to be authorised has dropped.
Personal loans are mostly used in crisis situations. As a result, they will require a quick verification process and an early deposit of loan cash into their bank accounts. The primary purpose of an Aadhar card is to expedite the process. Because of the digitization of KYC verification, obtaining a personal loan is now extremely simple. Because the Aadhar database has the individual's personal information, it takes less time to approve the loan.
Conclusion
Despite the fact that it's not essential, possessing an Aadhar card makes applying for a personal loan on Aadhar card much easier. The verification process is simplified for bank employees if the borrower supplies their Aadhar details. There is also a paperless alternative called e-KYC, where documents can be uploaded online. The person is not required to submit any physical documents using e-KYC. Several banks also provide rapid loans in exchange for a scanned copy of the borrower's Aadhar card.
Since the introduction of the Aadhar card, obtaining a personal loan has become quite simple. Because the Aadhar database contains information such as name, permanent residence, and date of birth, bank and NBFC verification is also performed quickly.