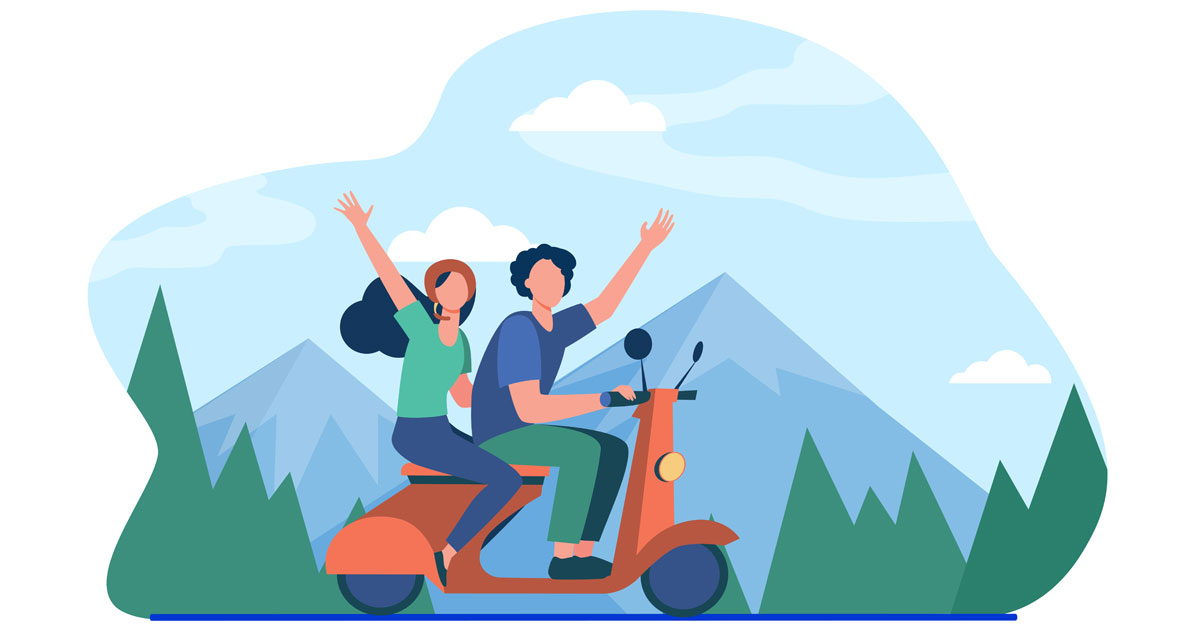 Those who want to buy a bike or scooter of their choice and pay for it with equated monthly instalments (EMIs) are given a loan for two wheels. Two-wheeler loan in India, also known as bike loan or scooter loan, is a financial product that enables a person to borrow a set amount of money from a bank or other financial institution to buy a two- wheeled vehicle like a bike or scooter. The borrowed amount may be repaid over the borrower's specified repayment period. Banks and other financial institutions usually offer a variety of repayment terms from which you can select the one that best suits your financial situation.
Due to their lower cost as compared to cars and their suitability for moving about cities, two-wheelers have grown to be a popular form of transportation in India. In order to commute during rush hours, many vehicle owners choose to purchase a two-wheeler due to the difficulty of operating a four-wheeler on the crowded roads of Indian cities.
What Benefits Can You Get from a Two-Wheeler Loan?
You can gain from applying for a two-wheeler loan in India you've always wanted in a variety of ways. Some of them consist of:
Flexible Options for Repayment
We provide loans for two-wheelers with adjustable payback schedules. Between 12 and 48 months, borrowers are permitted to establish any duration of their own. In order to determine the exact amount of interest based on their loan amounts and tenure, they can use a two-wheeler loan interest calculator. It is normally advised to choose the tenure carefully after evaluating your financial capability beforehand.
EMI Option
You can repay the loan in convenient instalments by using the two-wheeler loan EMI option in India. The borrower has the option of choosing the ideal structured equated monthly instalment (EMI) based on convenience. Depending on the loan plan and tenure you are considering applying for, you may use a two-wheeler loan EMI calculator to get the exact amount of EMI that you are required to pay. It will assist you in making an advance plan for your finances.
Financing of High Value
You can finance up to 100% of the price of the ideal two-wheeler you want to purchase with a two-wheeler loan. This allows you to avoid paying all at once and get your brand- new two-wheeler with a little down payment.
Financing of High Value
The main advantage of getting a two-wheeler loan in India is that you won't have to worry about money all the time. It enables you to repay the money you owe to banks and non-financial businesses at nominal fixed interest rates, making it simpler for your finances to spend a little each month.
Additional Advantages
According to the Indian Motor Act, two-wheeler loans can be availed with an insurance cover and an accidental cover for you. It is a major aspect of accepting loans from Banks/NFBCs. The loan also covers any additional expenses, including insurance, the cost of accessories, and registration.
Get the money you need to purchase the bike of your choice.
Use a co-applicant or guarantor to secure the funding you require.
Obtain money to purchase superbikes as well.
Obtain low-interest rates.
Enjoy a variety of loan payback schedules.
Pay down your debt with manageable EMIs.
Build your credit history by paying off each EMI on schedule.
When you submit an online application for a two-wheeler loan, very little paperwork is required.
Online comparison shopping will allow you to find a two-wheeler loan with low-interest rates.
You can realize your ambition of owning a bike or scooter with a two-wheeler loan without having to deplete your resources.
You may improve your credit score and establish a solid credit history by making on-time payments on your two-wheeler loan.
How Is the Interest on a Bike Loan Calculated?
It's crucial to understand the interest rates for two-wheeler loan in India before applying for financing. Applicants' two-wheeler interest rates vary depending on their profile, ability to repay the loan, level of income, and the type of loan.
Depending on the type of two-wheeler, different interest rates apply to two-wheeler loans.
Secured loans have lower interest rates than unsecured loans, which have higher interest rates.
Additionally, your financial situation affects the two-wheeler loan's interest rate.
Your repayment capacity and credibility are assessed using your income as a factor.
Two-wheeler loans with lower interest rates are typically provided to salaried individuals with steady employment, whilst loans with higher interest rates are provided to self-employed individuals.
What Determines Two-Wheeler Loan Eligibility?
Your eligibility for two-wheeler loan in India depends on a variety of variables. There are a few universal ones that apply to all lenders, even if they may vary from one lender to the next. These are listed below:
Age: If you are 21 years of age or older, you may apply for a scooter or bike loan. Since the car will be in your name when it is registered, you must demonstrate that you have the income to pay back the loan. If you have a guarantor for the loan and you are under 21, the lender might in some circumstances accept your application.
Salary: Having a greater income ensures lenders that you will be able to make monthly loan repayments on schedule. Your risk assessment is therefore low. This makes you more qualified for a loan. The likelihood of a quick loan approval increases with income.
Credit score: Your credit score is a key factor in evaluating whether or not you qualify for a certain loan. Your loan application will likely be denied by lenders if your credit history is bad. On the other side, you may be eligible for favourable loan terms if you have good credit (a score of more than 750).
Area of Residence: Your eligibility may also depend on the city in which you reside.
Stability and Job Experience: Lenders typically demand that you have at least a year of work experience. In addition, you must have been employed by your current company for at least six months.
Tips for Filling Out a Two-Wheeler Loan Application
Let's look at the considerations you should make while applying for two-wheeler loans in India now that you are aware of how to do so successfully. These guidelines might assist you in selecting the appropriate loan and preventing overpayment.
Do a thorough study before applying for a motorcycle loan: this is the first step. Make sure to conduct thorough research. Compare all of the choices that different lenders have to offer. Compare the loan terms, including the interest rates, processing costs, and choices for making payments. This will aid in your search for the most cost- effective solution.
Pick your tenure carefully: How much you must pay back each month depends on how long your loan will be outstanding. Verify that you can afford the EMI. This means that you must choose your tenure carefully. The loan will be repaid more quickly with a shorter term. Your EMIs, however, will be substantial. Decide how much you can afford to pay down each month without running into financial trouble.
Select a reasonable interest rate: Your loan's total cost is determined by your interest rate. Additionally, it affects your EMI. Maintaining low EMIs can be accomplished by selecting a loan with a low-interest rate. Your loan will also cost less as a result.
Conclusion
two-wheeler loan in India, sometimes referred to as a bike loan or a scooter loan is a type of financial product that enables a person to borrow a specific sum of money in order to purchase a two-wheeled vehicle. The optimal structured equivalent monthly payment (EMI) can be chosen by borrowers depending on convenience. The biggest benefit of obtaining a two-wheeler loan is that you won't constantly be concerned about money. You can use it to pay back your debts at low fixed interest rates. Any other costs, like insurance, the price of accessories, and registration, are also covered by the loan.