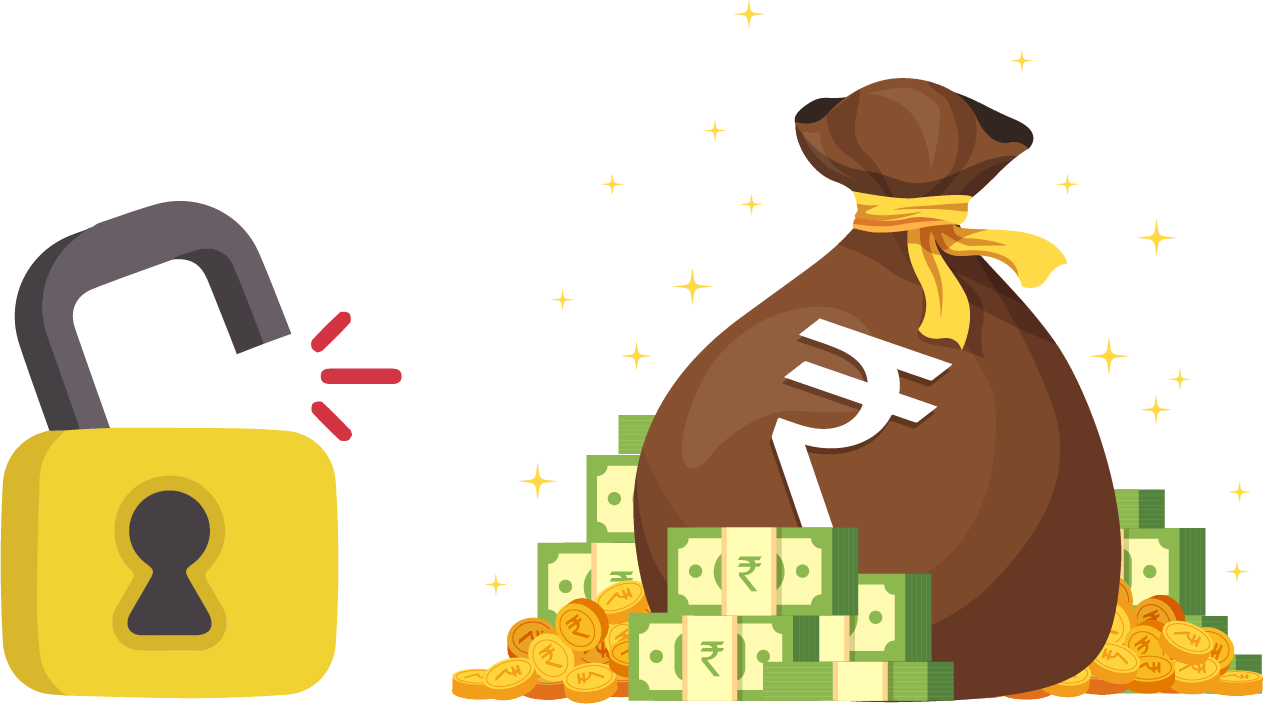 What is Unsecured Loan?
A loan that doesn't require any type of collateral is called an unsecured loan. It is approved based on the borrower's creditworthiness and does not depend on their assets. Loans such as student loans and personal loans are examples of unsecured loans. Credit cards can also be considered unsecured loans.
Since this loan doesn't require any asset to be kept as collateral, it is helpful for the borrower to have a high credit score. The onus is on the lender to decide whether or not to approve an unsecured loan. However, there are laws to protect borrowers from discriminatory lending practices.
Types of Unsecured Loan
An unsecured personal loan may be required by a person for several reasons such as business, education, marriage, agriculture, etc. Unsecured loans are broadly categorized into 3 types of loans.
Revolving loans: A revolving loan is a flexible loan with a pre-approved limit that can be utilized multiple times within its tenure. In other words, it is a credit limit assigned to borrowers, wherein they can withdraw up to a certain amount, repay, and withdraw again. Such loans are ideal to help businesses with their working capital requirements and have variable interest rates.
Term loans: A term loan has a fixed tenure and interest rate. It is ideal for purchasing a fixed asset or making a long-term investment.
Consolidation loans: Due to such convenient access to financing, one can often accumulate some loans. They opt for a consolidation loan to repay these accumulated loans. Hence, a consolidation loan helps in consolidating all of one's existing loans.
Types of unsecured loans may also be categorized based on their end use:
Business loan: Such loans are offered to businesses to help them invest in infrastructure or handle their working capital needs. A business loan is similar to a revolving loan, except there is an interest on the outstanding amount. Receivables financing is one of the most common mediums of financing a business.
Vacation loan: There may be some loans packaged as vacation loans. A term loan can be used to finance the trip. For expenses, during the trip such as shopping, eating, etc. a revolving loan may be used. A credit card may also be used for your vacation expenses.
Wedding loan: A wedding is an important event for Indian families, and they leave no stone unturned in its preparation. However, marriage expenses can put a huge dent in your savings. A wedding loan is a flexible financial product that can help you manage your wedding expenses.
Home renovation loan: A home renovation loan can be availed to refurbish your house. Usually, a home renovation loan allows several purchases and modifications, but not the purchase of furniture and appliances.
Top-up loan: Borrowers may often require additional financing over an existing loan. This additional loan amount is known as a top-up loan. In this case, borrowers can club the previous loan and the additional loan amount into one and pay a single monthly installment instead of two separate payments.
Bridge loan: A Bridge loan is meant for the short-duration fund requirements of a person. The term of bridge loans is usually under a year.
Consumer durable loan: With the advent of technology and dependence on digitization, the purchase of gadgets and appliances has become inevitable. A consumer durable loan aids the purchase of gadgets and appliances. While a term loan may suffice for consumer durables, some opt for revolving credit, to get the freedom of utilization and repayment of the funds.
Difference Between Unsecured Loan and Secured Loan
Secured loans require you to offer collateral for security against your inability to repay the loan, whereas unsecured loans allow you to borrow the money immediately based on your creditworthiness.
You may put up something valuable such as your property, gold, high-end collectibles, stocks, mutual funds, insurance, etc. as collateral for a secured loan. Some examples of a secured loan are - loan against property, car loan, home equity.
To avail an unsecured personal loan, you must have a high credit score. Examples of an unsecured loan include credit card, personal loan and student loan.
Advantages and Disadvantages of Unsecured Loan
There are pros and cons of unsecured loan as well as secured loan. Let us throw some light on each.
First of all, your assets can be seized if you fail to pay off your secured loan, which makes them riskier than unsecured loans. In addition, you are still required to pay interest on the loan based on your creditworthiness.
Since an unsecured loan is given based on your creditworthiness instead of against collateral, the interest rate might be higher than a secured loan.
Secured loans are easier to obtain than unsecured loans since the latter is riskier for the financial institution.
Secured loans have a longer repayment period compared to unsecured loans.
In addition to being easier to get, the contract in case of a secured loan is usually more favorable for the borrower.
Overall, secured loans are offered on better terms than unsecured loan.
Interest Rates on Personal loan
Personal loan interest rates usually begin at 10.25% p.a. but some public sector banks offer lower interest rates. Private sector banks such as HDFC Bank, Axis Bank, and ICICI Bank offer the lowest personal loan interest rates beginning from 10.25% p.a.
The personal loan interest rate offered to you will depend on your credit score, monthly income, job profile, etc.
If you are seeking the best-unsecured loan interest rate, you should compare all banks personal loan interest rates before making a choice.
FAQs on Unsecured Loan
Q1. How can I check my eligibility before applying for a personal loan?
A. Eligibility criteria are clearly stated by most lenders on their websites. Most websites even provide a personal loan eligibility calculator tool.
Q2. Is there a limit on the maximum amount that I can borrow from a bank?
A. The maximum amount that you may be able to borrow will depend on several factors. If you are in a job, your monthly EMI should not exceed 30% of your monthly salary. Banks will also factor in any other outstanding loans you have. For self-employed individuals, their profits and liabilities will be assessed before deciding the maximum loan amount.
Q3. Is there any advantage in applying for a personal loan online?
A. Yes, applying for a personal loan online saves you a lot of time and effort, and the approval process is entirely paperless.
Q4. What is the repayment tenure for personal loans?
A. Most financial institutions allow borrowers to choose their repayment tenure starting from 1-5 years.
Q5. What documents will I be required to submit while applying for a personal loan?
A You will be required to submit some standard documents such as
Identity proof
Address proof
Income proof
Business proof in case of self-employed individuals
Any other documents that are requested by the lender
Q6. What should I look for while applying for a personal loan?
A. Some of the primary things to consider are:
Interest rates - Interest rates for personal loans may range from 10-24%, so you must compare and choose the best plan for you.
Repayment flexibility - You should check if there is any penalty for making pre-payments.
Processing fees - Even if your interest rate is low, high processing fees can increase your loan cost.
Customer service - You should ensure that the customer service is efficient and all your queries are answered promptly. Also, there should be enough channels for you to reach them.
Q7. How can my EMI for a personal loan be reduces?
A. If you have a high credit score such as 750 or above, and if you have a good relationship with the bank, you may be able to negotiate a lower EMI.
Q8. How long does it take for the loan to be disbursed?
A. If you are a pre-approved customer, the loan amount will be very quickly disbursed to your account. If you are applying offline, you need to submit the required documents and wait for approval.