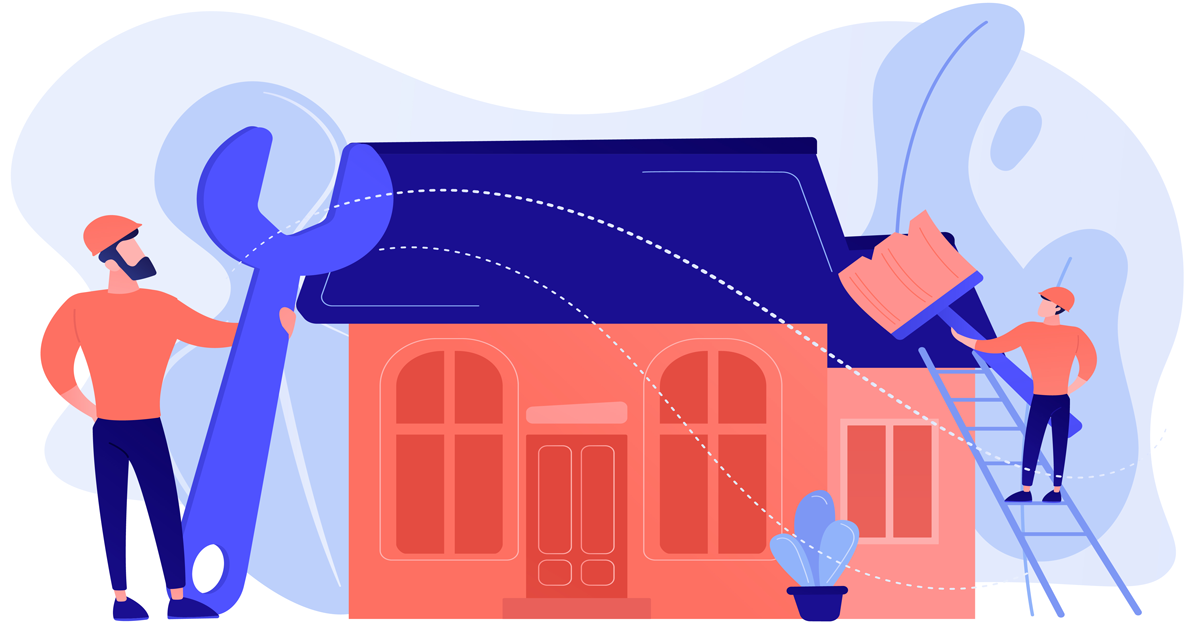 Who doesn't want to make their home look beautiful? But every person has a different idea of what is beautiful. One may like trendy designs, whereas others might want to keep their homes traditional and old-fashioned. To get the home makeover that you want, you need to have sufficient funds to do so. Some home renovations are very costly, but if you get a loan, it will come at a lower interest rate.
There is no denying that home renovation loans in India have become one of the most popular sought-after loans. Many lenders offer such loans, each with its own rates. So, if you don't choose them carefully, you might pay more than you had planned. As such, every borrower needs to select a lender carefully. lendingplate offers home renovation loans at a lower interest rate.
With a loan to remodel your home, you will increase its resale value and make it look fabulous. In fact, you will be making your dreams come true without burning a hole in your pocket. There are many home renovation loans in India, which has made it easier for people to get the loans when in need.
What are Home Renovation Loans?
Home renovation loans are the most useful source of funding for those who want to undertake home improvement projects. The loans are intended to be used for small, medium, and large home improvement projects. You can use the loan money to get a new kitchen, perhaps a bathroom, or even renovate the entire house. You can also use it to fix things like pipes, windows, doors, and any other type of maintenance-related issue.
Home renovation loans are based on after-renovation value. The lender uses the home's estimated value instead of the current home value to determine how much a person can borrow. This will help the homeowners have credit for the increased home value from the agreed-upon renovation.
This is the only type of loan that gives a homeowner credit for the future value of their home. The home's value can increase rapidly, which makes this loan a good investment. To get a good deal, you need to make sure that you choose the right lender.
Moreover, if you use the value after renovation, you will get a low-interest rate since the lender usually sets the rates based on the loan-to-value ratio. The lender must also ensure that he does not lend more than the property's current value. Thus, you need to take a home remodelling loan from a reliable lender who will lend you only as much as the property is worth.
You may also read this: Reasons to apply for a personal loan
Eligibility Criteria for Home Renovation Loans in India
Do you want to get a loan to remodel your home? Then the following are some of the eligibility criteria that you need to fulfil in order to get a loan easily:
Age
The minimum age requirement for a home renovation loan in India is 21 years. If you are under 21 years of age, then you can be given the loan.
Resident Type
The borrower should be a permanent resident of India and show proof like your ID.
Income Documentation (Proof of income)
The borrower should have proof of income from the employer or from self-employment to be eligible for a home renovation loan in India. The salary slip may not be required by some lenders, but the employer's letter should suffice. The borrower must have had a steady source of income for the past three years, with at least six months' evidence of regular income within that period.
Employment Status
Can anyone apply for home renovation loan in India if he provides proof of their employment status? The answer is yes. You are eligible for the loan if you are employed as well as self-employed. If you are unemployed but have a good source of income, you are eligible for the loan. However, many lenders require borrowers to be employed to avail of the loan. As for the self-employed, they stand a good chance of getting the loan too if they prove their source of income.
Documents Needed for Home Improvement Loans
You should know by now that a home renovation loan requires you to submit some documents during the application. Some of the documents include
Proof of Income: This is needed to demonstrate that you can afford to pay the loan. The lender will need your payslip if you are a salaried person and bank statements showing the credit made for six months. If you are self-employed, you will be required to submit proof like bank account statements. If you are self-employed, you should provide your bank account statements.
Identity Proof: You should provide your official documents to prove that you are an Indian citizen. A valid ID is mandatory for all people who wish to apply for a home improvement loan. An Aadhar is also a must as it shows your identity.
Residential Proof: You will also be required to provide your residential proof as it shows a secure address for the borrower. You should show a valid passport, electricity bill or water bill, Aadhar card, or voter's card.
Loan Details: Not only will you be required to submit some documents, but you will be asked to provide some details as well, like the cost of the home improvement loan and the purpose of the renovation. This information will help the lender understand what you want to improve and help him assess your loan repayment capacity.
If you have all these documents and qualify for a loan, apply as soon as you need the funds. You will find many lenders offering such loans. But, your priority should be to get a lender like lendingplate that offers home renovation loans at a lower interest rate as low as 5% per month in India.
You may also read this: Apply for a personal loan in Delhi
Get a Home Renovation Loan in India at lendingplate
Home renovation loans have become inevitable in a country like India, where people are living in cramped conditions. The country's population is increasing daily, and people are living in homes with very little space. Due to this, most of them are looking forward to renovating their homes to give them the comfort they desire.
But the process of getting home renovation loans can sometimes be quite complex. This is where lendingplate comes into play. lendingplate helps offer home renovation loans at a very cheap rate. It enables you to find a loan with both reasonable interest rates and easy terms. The lender is willing to give loans even to those who have gone through several hardships as long as they can improve their financial condition and pay back the loan on time. lendingplate states its commitment to customer satisfaction in every aspect.
You can get home renovation loans at lendingplate by following the simple steps below:
Go to the lendingplate website and click the "Apply Now" button to start the application process.
Fill out the application form with the required details and, once done, provide the documents. State the amount to be borrowed and the reason for borrowing.
lendingplate will then assess your eligibility based on the details that you have provided in the application form and approve or deny your loan based on the same.
Final Remarks
The need for home renovation loans for homeowners has increased recently, with many wishing to live to their fullest in a nicely made home. If your requirements are relatively well-defined, then it is recommended that you consider applying for a home improvement loan as soon as possible.
Home renovation loans can be easily availed in India by applying online. The best part about this loan is that the lender uses the estimated value of your house after the renovation to determine the loan amount. This will help you get a good deal while getting a remodelling loan.