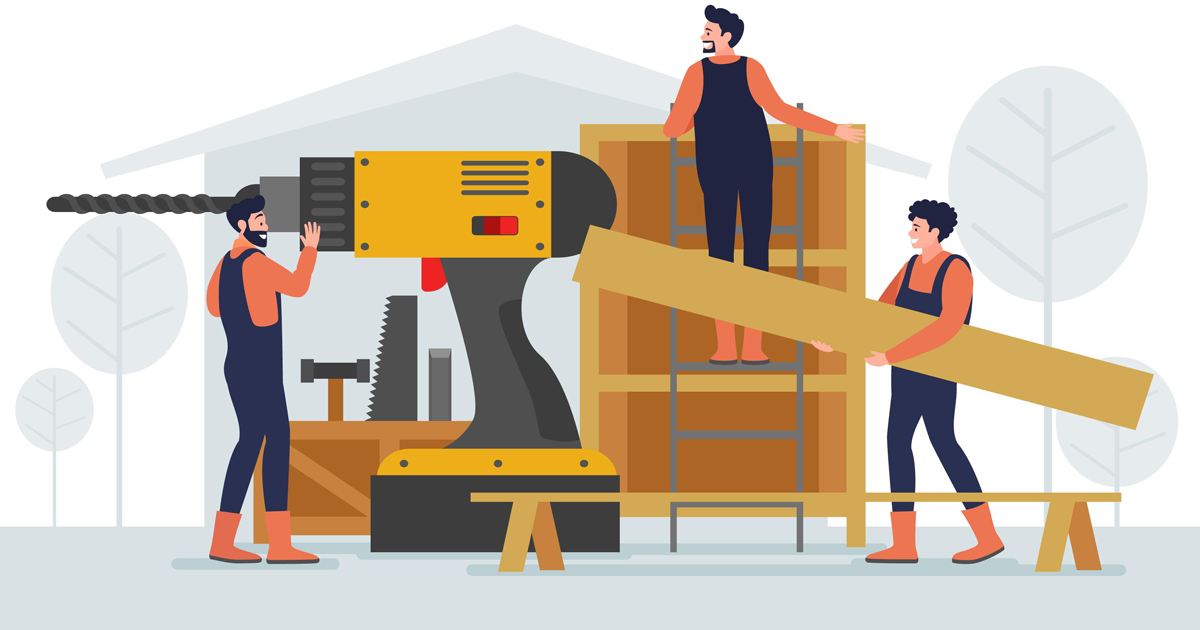 Typically, a residence is said to represent its owner. Now that you have the ability, you may make house renovations a milestone as joyful and memorable as buying a property. By making equivalent monthly instalments, you can upgrade the tiling, flooring, painting, and plastering in your home (EMIs).
Basically, a home renovation loan is provided to those who plan to use finances for a home makeover. These loans can be used to improve the aesthetics of your house while making it more pleasant to live in. Flooring, tiling, plastering, painting, and other home improvement projects are all eligible for home renovation loans in India.
There can be various different reasons to renovate your home and give it a new look. You might need to do home improvements if you live in an old house that was built many years ago for safety reasons. It can involve replacing the walls or fixing the roof. Even changing the electrical wiring can be necessary.
Home renovation loan solutions are offered by a number of banking institutions and non-banking financial organisations (NBFCs), and they give a good deal of flexibility with extended loan repayment terms. This makes it possible for you to easily return your loan balances to the best of your capacity. In these types of loans, the repayment time period is much longer and the rate of interest is more competitive when compared to other sources.
What Criteria Apply to House Renovation Loans?
Home remodelling loans are available to both new and current borrowers of mortgages. You must first meet a number of requirements in order to be qualified for a loan, regardless of whether you want to borrow money for interior home improvements or any other kind of structural repairs. The following are some of these:
Credit Score (CIBIL)
You must have a solid credit score to qualify for any loan, whether it be for personal use or home renovation. Typically, you should have a score of at least 700, however, some institutions prefer 750. A good credit score demonstrates your capacity to make timely loan payments.
Age Requirements:
The applicant must be at least 18 years old and no older than 65.
Residential Status:
The applicant must be an Indian citizen, either a resident or a non-resident.
Employment Status:
The candidate must be either self-employed or employed on a salary.
Type of Residence:
The applicant must have a primary residence or a rental home that they have occupied for at least a year prior to applying for a loan.
Documentation needed and eligibility requirements for home renovation loans for salaried professionals
Customers have the option of applying separately or jointly for financing for home renovations. All owners of a house or other property for which a loan is applied for must be co-applicants, albeit not all co-applicants must also be co- owners. Family members who live nearby may co-apply for the loan. The supporting documentation you must provide to meet the qualifying requirements for a home remodelling loan is normally required. The following is a list of the documents you must provide with your applications:
Valid identification documents include a passport, voter ID card, Aadhaar card, and valid driver's licence. The most recent IT returns, form 16 and the last three months' worth of pay stubs or bank statements showing wage credits
Other supporting documentation includes a letter of appointment or employment contract, proof of individual contribution, bank statements from the previous six months showing repayment of any outstanding loans, if any, and passport-size photos.
Original property title deeds, evidence that there are no encumbrances on the property, and a civil engineer's or an architect's estimate of the proposed work.
Documents and Requirements for Self-Employed Professionals' Eligibility
Doctors, architects, lawyers, engineers, chartered accountants, company secretaries, consultants, contractors, etc. can apply for home remodelling loans for self-employed clients. These loans may be obtained singly or jointly, and co-applicants are subject to the same rules as salaried clients. The following papers are needed for clients who are self-employed:
Valid identification documents include a passport, a driver's licence, an Aadhaar card, and a voter ID card.
IT returns, income calculations for the previous three assessment years, balance sheets, schedules, and annexures for the previous three years, as well as customer savings account statements and business current account statements for the previous six months, serve as proof of income.
Business profile and the most recent Form 26 AS, the company's articles and memorandum of association, a list of shareholders and directors and a certificate of individual shareholding from a company secretary or chartered accountant, if the business entity is a company, or a partnership deed, if the entity is a partnership firm, passport-size photos, information about any current loans to the client and the business, including instalment payments and outstanding.
Original title documents, evidence of no liens against the property, and a civil engineer's or an architect's estimate of the intended work
What are the Benefits of a House Renovation Loan?
For a variety of reasons, remodelling a home can be challenging. You need to plan out your tasks, hire the best experts you can, and keep your finances in order.
Lower Interest Rate
The lower and set rate of interest offered by home improvement loans is one of its main benefits. Unlike home improvement loans, which have a fixed interest rate, personal loans have a higher rate of interest that must be paid. Customers find it simple to pay back the loan amount at a lower rate of interest, particularly when the loan is taken out for a longer length of time. So, in the long term, getting a secured loan is considerably better.
You may also read this: Secured and unsecured loans
Increasing the Value of Real Estate
If you want to sell or rent out some vacant houses you own, this is a fantastic alternative. This is a fantastic method for making passive money.
By making the required repairs, you can increase a property's value in the process. If a potential customer contacts you and makes specific alterations you deem reasonable, satisfying their needs may pave the way for successful pricing negotiations.
Given that these areas typically end up being the most valued, you might think about upgrading them. You should consider receiving this loan as a long-term investment in your home. After that, if the market is doing well, you can elect to decide to sell your property.
Rapidly Repaying Options
The majority of loans don't offer a solution for you to pay them back quickly. On the other hand, loans for home improvements may not require long-term repayment.
Your house may have a much better worth after the projects you have underway are finished. If you choose your renovations wisely, the return on investment will be sufficient to significantly outweigh the renovation loan.
Less Documents Requirements
This is true, especially if you have previously obtained a loan from the same bank. Some banks check the property physically before authorising the loan. Many commercial banks offer home improvement loans with minimal paperwork requirements. The disbursal process, however, is made simpler if you obtain the loan from the same bank where you previously obtained a loan. On the other hand, if you are taking out a loan for the first time, you must repeat all the steps in the loan application process.
Low EMIs
If the money is borrowed for a longer length of time at a lower rate of interest, EMIs will be reduced. Compared to borrowing money at a higher interest rate, loans at lower rates of interest have lower monthly payments (EMIs). A secured home loan is always the greatest choice for staying within your monthly budget.
A Wiser Investment of Your Money
Long-term benefits of choosing a refurbishment loan are increased. You can have some financial flexibility if you set a defined budget for home improvements and intend to stick to it.
Additionally, you are able to select the payback time that best suits your financial circumstances. Assume you additionally take into account the reduced interest rate on this loan.
Combining all these advantages will make it easier for you to break even with the lender
Conclusion
Consider a house renovation loan if you want to renovate your house and give it a fresh look. Banks provide loans for homeowners who want to renovate or improve their properties but need the money. With the help of these loans, you may make your home more aesthetically pleasing and comfortable to live in. Before being eligible for a loan, there are a number of prerequisites that must be satisfied.
If you make good renovation decisions, the return on investment will be enough to more than offset the cost of the loan.