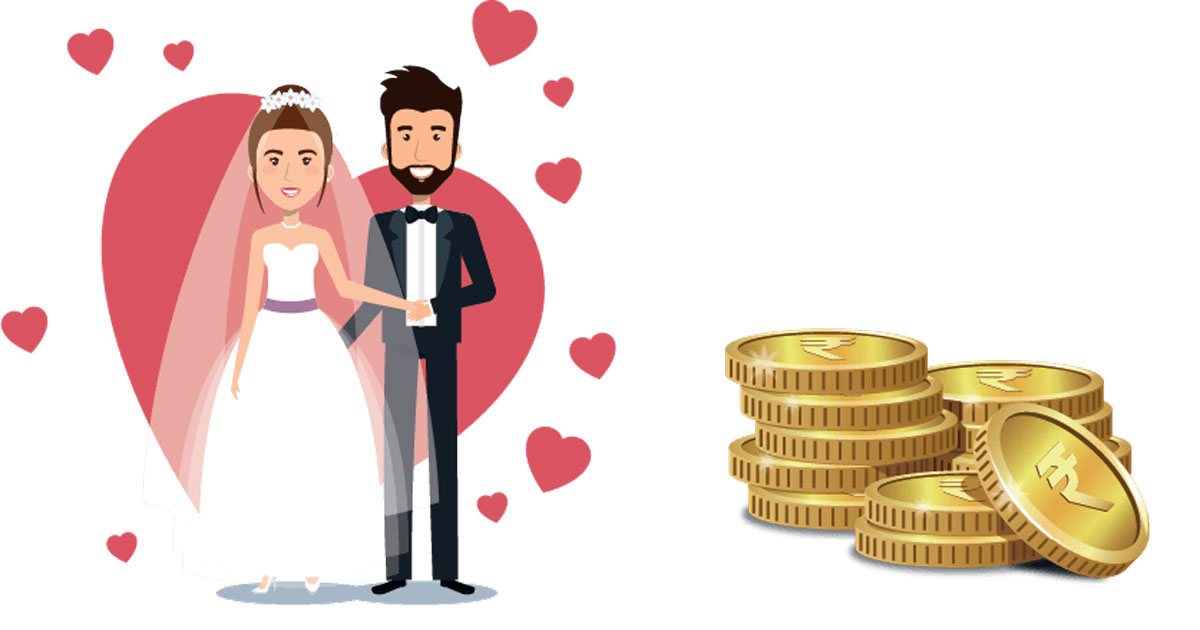 Weddings are known for being expensive and elaborate social gatherings. From bridal trousseau and decoration to gifts for guests, venue fees, and catering, expenses can be very expensive. But that doesn't mean you should let money get in the way of the most important occasion in your life. You can take a personal loan for wedding and ensure you have something to celebrate, without having to worry about the cost.
A wedding is a big day of your life. Especially if you live in India. You have to make the day perfect. Previously, parents had to bear all the expenses of their children's marriage. However, as time has changed, more couples are taking on this role. Couples who earn an income may not have enough savings to finance their marriage. Wedding loans can help you get the money you've been looking for to finance your wedding. Many banks offer wedding loans, and you can request one to cover the costs.
What is a Wedding Loan?
A wedding loan is a personal loan taken to cover wedding expenses. A personal loan for wedding can cover expenses such as the cost of the venue, the purchase of jewelry for the bride, the cost of guest accommodation, decoration costs, catering costs, and other services. professionals that the ceremony usually requires.
Wedding loans give you the option of borrowing unsecured or a secured wedding loan. A secured wedding loan requires the borrower to place collateral such as a savings account, a car, or a house against the loan. An unsecured loan for marriage is not protected by any collateral from the borrower. It gives borrowers a minimum of Rs 5 lakh to a maximum of Rs 40 lakhs. Marriage loan is best suited for people who have no mortgage or collateral. Homeowners can enjoy the benefits of an unsecured loan. Couples can spend money on whatever they want.
The repayment period of the wedding loan is five to seven years which makes it easy for the repayment of the loan by the borrowers. Planning payment within the wedding plan can help. The wedding loan offers a variety of repayment options. You can choose the one you find most appropriate and suitable. Control wedding expenses, as you have to bear the burden of the loan payment.
Wedding Loan Benefits:
You can get the following benefits from a personal loan for weddings:
Since wedding dates are in most cases scheduled, wedding loans tend to be approved quickly.
You can get a loan of up to 40 lakhs
You can get a simple repayment schedule and thus benefit from a low- interest rate to put you at ease.
Wedding loans are cheaper than paying all the money with your credit card.
Eligibility for a Marriage Loan:
Typically, banks check your income with a credit score before deciding how much loan they can give you. As your loan scores and income increase, your chances of getting a loan for marriage also increase.
Before submitting a loan application, it is advisable to obtain an accurate cost estimate. Depending on your marriage loan eligibility, you will be able to estimate the amount of loan you can obtain. This way, you can plan your wedding accordingly.
Some of the marriage loan eligibility criteria include:
-Minimum monthly income
The minimum monthly income required for a personal loan for wedding is Rs 15,000 but some banks can also raise this amount to Rs 25,000 depending on the city of residence.
-Type of employment
Both self-employed and paid professionals are eligible to submit a wedding loan application.
-Employment status
If the candidate is paid, he/she must have been in the current job for at least 2 years, while for independent professionals, you must have run the business for 1 year.
-Age
The minimum age is 21 years but some banks fix it at 23 years. The maximum age for a salaried person is 58 years but for a self-employed, it is 65 years.
-Maximum loan
The maximum loan for a wedding amount depends on various factors such as the borrower's credit rating, income, loan history, and repayment capacity. The maximum loan amount depends on the bank or financial institution, but it is between Rs 5 lakhs - Rs 40 lakhs.
-Credit score
The loan score is an essential criterion for a wedding loan. Most lenders require the applicant's loan score to be 750 or above.
What you must know!
After crossing the planning stage, one should search for loan givers and make a comparison chart of them. The most suitable of them in terms of all criteria like interest rate, payment terms, and repayment time should be chosen for the loan for marriage. If you have any doubts about lenders even after checking a hundred times, you have the option of going through a consultant who will give you the best advice.

You can get a personal loan for wedding that you need for marriage even with a bad loan rating. Ensure you do proper planning. First, set a budget for the amount you need. Taking a bad wedding loan that exceeds your limits is a sure way to remain in a bad loan situation.
There are financial institutions that provide bad credit loans. If the one lender is concerned about your loan history, switch to a mortgage lender who lends to people with bad loan history. They have special products for bad history loans for marriage that can suit your financial situation. Each lender has different marriage loan eligibility criteria. So, you can't get your wedding loan with bad credit from all mortgage lenders.
Bad credit is like an ongoing battle. You have to fight your way out when you have a bad loan history. Bad credit wedding loans can create an alternative source of financial support for those suffering from bad credit. This is the moment when you finally decided not to let bad debt slow your way down the altar.
Documents Required for a Wedding Loan:
-Valid Proof of Identity:
The legal proofs of identity are -
Photo Ration Card
Aadhar Card/PAN Card
Permanent Driving License
Voters ID/Passport.
-Valid Proof of Address:
Lease Agreement or Registered Rent.
Permanent Driving License
Telephone bill/Water/Electricity.
Passport.
Ration Card.
Voters ID.
-Proof of Age:
To proof your age, you must submit -
Financial Documents
Birth Certificate
PAN Card
School leaving certificate
-Form 16 and Audited/verified P/L accounts
Form 16 and payslips for the last 3 months, for salaried individuals. Audited and verified P/L accounts, Income Tax Returns for the past 2 years, and bank account statements for the last 6 months, for self-employed individuals.
Interest Rates on Wedding Loan:
The interest rates of usual personal loans for weddings are mostly the same as that of personal loans, however, they vary by the lenders. Consumers can also avail of regular personal loans from banks that do not offer marriage loans. Most lenders usually offer wedding loans with an interest rate of @10.25% p.a. But, some banks provide personal loans for longer periods and at lower interest rates. Some financial institutions also offer pre- approved wedding loans to certain customers with prompt payments.
The wedding loan interest rates on secured loans are generally low and are easily approved due to the social aspect of the event. The borrower, however, is in a better position to claim a reduced interest rate when his collateral is of higher value. A marriage loan payment is usually made quarterly or monthly.
An unsecured wedding loan is generally requested by unemployed people or people in part-time employment. They can also get a loan, but they are more likely to have a disadvantage. Without the collateral offered by the borrower, the lender may only offer a small amount and at a higher wedding loan interest rates. These people can get the amount they want at a lower interest rates if their loan history is good and they have the financial capacity to repay.
People with bad credit pay high-interest rates with unsecured or even secured loans.
FAQs on Loan for Marriage:
Q1. What is the difference between a personal loan and a personal loan for wedding?
A. Personal loans are easy to use and can be obtained to meet personal expenses including home improvement, debt consolidation, education, medical bills, etc. However, wedding loans are personal loans designed specifically to cover the costs associated with a wedding.
Q2. Can I avail myself of a top-up on my loan for marriage?
A. Yes, some lenders offer additional loans to borrowers on top of their existing loans to meet additional wedding financial needs. The marriage loan eligibility for these top-up wedding loans is determined case-by-case.
Q3. Why Do I Need a personal loan for wedding?
A. Besides the usual wedding expenses, there may also be additional costs. If you decide to go cheap and risk with low cost, you're just fooling yourself. All of this requires money, so it's best to be prepared.
Custom themes and wedding designs are current fashion trends. These can be very expensive. Coordinating costumes, themed decorations, guest gifts, and more make the event one of the most expensive wedding ceremonies you'll find anywhere. It's no surprise that most of us can't afford to pay for all of this in the usual way. That's why a wedding loan can be one of the best things you can get.
You may be worried that interest rates on personal loans for weddings are high. You may not want to start your marriage in debt. If so, you can borrow from your family, relatives, or friends without any interest.
Q4. What expenses can be covered under a wedding loan?
A. You can get a personal loan for wedding to cover all sorts of expenses related to a wedding or marriage, including the purchase of jewelry or clothes, renting a conference room, catering, etc.
Q5. How can I apply for a Personal Wedding Loan?
A. Getting a personal loan for wedding is simple. You can submit an online application and provide the documents required to process the loan application.
If you're a salaried employee, you'll have to provide proof of residence, identity, bank statements and salary slips for the past 3 months, and work experience documents. You must submit your income tax return if you are self-employed. With the necessary paperwork in place, financing your wedding is an easy task.
Q6. What is the best credit score to get a loan for marriage?
A. Any credit score of 750 and above might increase the chances of availing personal Loan for Wedding at lower interest rates. It can also help you get better terms such as a longer repayment and a lower interest rate for your wedding loan.
Q7. Is there any evidence or collateral required for a marriage loan?
A. You do not need to provide proof of obtaining a wedding loan, you can get a secured loan with collateral or an unsecured loan with no guarantors based on your needs.
Q8. How is interest payable on a marriage loan determined?
A. Wedding loan interest rates may vary with different lenders and from time to time. This interest also depends upon the applicant's age, desired repayment period, credit score, loan amount, nature of employment, etc.
Q9. Within how much time can I get the funds in my account?
A. The funds will be available in your account once the loan for marriage is approved. For some banks, it takes only 3 hours, while for others it might take an entire day.
Q10. What is the minimum and maximum loan amount that I can avail myself of on a marriage loan?
A. Lenders usually offer wedding loans ranging between Rs. 5 lakhs to Rs. 40 lakhs. However, the loan amount may exceed and shall depend on various factors, including your employment type, credit score, location, income, etc.
Q11. How should I repay the loan taken for marriage?
A. You can flexibly repay the loan for marriage. You can authorize the bank for direct debit through an ECS mandate, you can also opt for an easy EMI scheme or you may also make the repayment through cheque.
Q12. Is it possible to prepay or foreclose wedding loans?
A. Yes, you can prepay/foreclose your personal loan for a wedding and save on the interest component. However, lenders can charge a prepayment fee of up to 6% of the outstanding loan principal amount in case you decide to repay your loan for marriage before the end of its tenure.