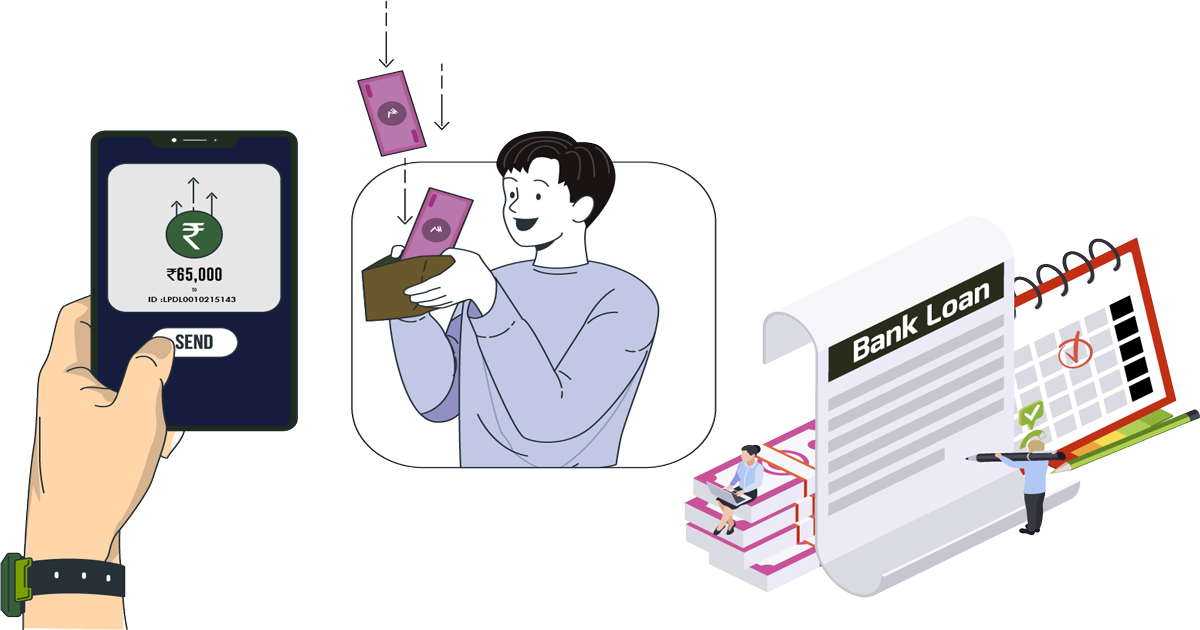 Who doesn't want fast money without going through the written documents? Loans help us a lot. A loan comes in handy if you have an emergency or need to buy an asset. But why waste time going through the written loan documents when you can get your money instantly? But how?
Nowadays, there are paperless personal loans in India where individuals get loans within hours. Instant personal loans are the quickest way to get real money. Aren't we all hurrying to get a loan when you decide we need it? No one wants to waste time filling up forms here and there when you can get the money within a few hours. These loans are more electronic and faster.
How Does an Instant Personal Loan Work?
The first thing to know is that you need a bank account to qualify for any loan. You apply for an instant personal loan over the Internet. You can fill in your account details directly on the lender's website or through your own bank's website. The application is then transmitted directly to the lender, who will review it within minutes or hours, depending on his workload at that moment. Once the application is approved, you'll receive an email confirming your loan offer and total fees (if any). You then have to complete the electronic documents online, sign them and send them back. The lender will transfer the money within hours directly to your bank account. This is how an instant paperless personal loan works. Some lenders are more flexible than others.
Way to Get Instant Paperless Personal Loan
Instant paperless personal loans are digital loans that don't need any sort of written document and can be approved in a very short period of time. You can apply for your loan over the internet and receive your money within hours or minutes. It's easier to apply for these loans, and they don't require a credit check. Instant personal loans are also great for people who don't have time to go through written documents and prefer typing on their computers. They're helpful when you need quick money. The only problem is that you will have to check that the company is authentic before applying for an instant personal loan, because some companies can be fraudulent and can steal from you. But, you can get a quick loan at lendingplate. Here is what to do before you can get a personal loan.
Check Your Eligibility
The online lenders offer instant personal loans to those who are of age; on average, you should be 21 years old or above to be eligible for a personal loan. But, don't apply for a loan without knowing how you will pay it back. You don't want to get caught in financial problems, do you?
That's why proof of income should be provided to ascertain this. Instant personal loans are for those individuals who have steady jobs that pay great salaries. Your minimum salary should be INR 20,000. If you are applying with a salary that's below, then you won't be approved. You cannot pretend to earn a monthly salary of INR 100,000 when you actually earn more than INR 10,000 per month because the lender will not accept unverified proof. You should be truthful about your income to not get into trouble later on.
Besides, you should be an Indian citizen and provide proof to support that claim. Documents like Aadhar and PAN can be used to verify your identity. Proof of residence is also required to ensure you live in the city where you applied for the loan. This can be a driving license or your electric bill.
Finally, you should have a bank account so that the money can be deposited directly into it and transferred to your account. You need to provide your bank details to the lender so he can send the money there when he approves your application.
Interest Rates and Fees
You should always check out both interest rates and fees before you apply for an instant paperless personal loan. Instant personal loans charge more than other loans because they are faster and easier to get approved than other loans.
Usually, personal loans offer lower interest rates. But instant personal loans are higher than any other type of loan. The fees charged on a loan can be as much as 2% of the loan amount. So, no matter how small the loan is, you will be charged for it, even if it's a few hundred rupees.
You may also read about this: Instant cash loan in 1 hour
Understand the Application Process
You can apply for instant paperless personal loans in India online on mobile devices like tablets or smartphones. It's easy to apply, and the best thing is that they don't come with many requirements. To apply, go to the lender's website and click on the "Apply Now" button. Fill out the form showing the amount of loan you want and state the reason for the loan. Most lenders won't ask for any documents. You will be asked to provide documents as proof of identity and proof of address.
After filling out the form, you will be asked to enter your bank details, verify your email address and upload documents. After this, you will receive an approval notice. So, apply for Instant Paperless Personal Loans now! They are easy and fast to apply with no hassle involved. Instant personal loans are flexible in application and can be available in any bank account with a maximum amount of 2 lakhs.
Personal loans are basically financial products that are borrowed from a lender to meet your personal needs. You don't have to worry about your loan application being approved because you can easily get a loan. But, you need to be aware of all the documents needed for the application process. You should also learn about the interest rates and how you can repay your loan on time, because this will help you in the long run.
So, if you have got your personal loan approved and you are ready to obtain it, then lendingplate can help you in this process. If you follow the above tips, you will be able to get a quick personal loan. You only need to sign up on their website and fill in the form. In just a few minutes, your personal loan will come handy and help you out of any financial problems. So sign up now! Remember, lendingplate doesn't need to submit physical paper documents; thus, it is easy and quick to get approved.
Why choose instant paperless personal loans over any other loan?
Convenience: People who have an immediate need for a certain amount of money can easily get an instant personal loan rather than visiting a bank and filling out lengthy paperwork, waiting in long queues etc. The whole process takes just a few minutes, and the funds reach the bank account of the borrower within thirty minutes or so.
No paperwork: Paperwork is annoying, and it requires a lot of time to complete. Residents of India are able to get instant paperless personal loans without having to submit any written documents to the lender. They just need to fill out the loan application on their mobile phones, and then they will be asked to provide proof of identity and proof of address, which can be done online.
Lower Costs: Interest rates are much lower on instant personal loans. Apart from that, no paper and printing costs will be incurred as it is paperless. great, right?
Quick Disbursal: A few years ago, mobile apps were unfamiliar, so obtaining a personal loan was a complicated, time-consuming, and difficult process. Thanks to technological advances, it has become much easier. You can even apply for a personal loan on your smartphone or computer. You can actually complete the entire application process within just ten minutes and get your funds instantly.
Paperless personal loans might just be the solution for you!
These loans are processed quickly and easily without the need for any hard copy documents. Paperless personal loans may not be available in all places, but you can get such loans at lendingplate, which is a good fit for your loan needs.
Conclusion
From all these, we can conclude that an instant paperless loan is what to go for if you need a loan without hassling with the process. They are quick and easy, and your funds will be available in a few minutes. So, go for it!
Instant paperless personal loans can be the difference between getting out of trouble and failing to get out of trouble. Instant personal loans are the best option if you want a quick loan. So, consider it if you want a loan in the shortest time possible. You don't even have to fill out any documents; it is paperless. The great thing about this kind of loan is that it is available even if you have no credit history; as long as you have a steady job and an active bank account, you can get the amount of money you need without any trouble at all.