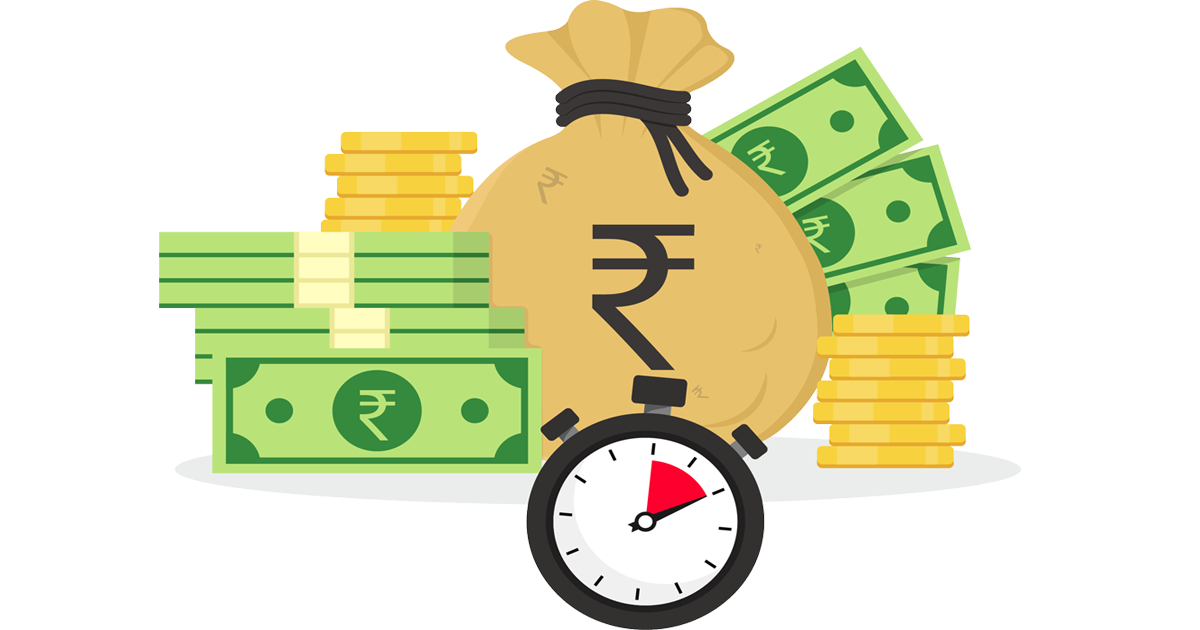 Although there are plenty of people who need cash in a hurry specially in emergency situations, it is not always easy for them to find the right lender. Often, a bank or other lending institution turns them away, leaving them without another option. If you're looking for an instant cash loan in 1 hour without documents, lendingplate provides instant personal loan with a paperless process. You only need some necessary digital documents to apply for the loan.
What's Instant Cash Loan and It's Features?
An instant cash loan is a fast loan given to borrowers by banks or NBFCs. Instant loan help borrowers to deal with emergency situations such as medical emergencies, unexpected expenses, and any kind of urgent need of cash.
| | |
| --- | --- |
| Loan Type | Unsecured Cash Loan |
| Loan Amount: | ₹10000 - ₹200000 |
| Interest Rates: | 2.5% - 3%/Month |
| Approval Time: | 1 Hour |
| Payment Mode: | Online Transfer |
| Loan Tenure: | 3 - 15 Months |
| Processing Fee: | 5% - 10% |
Instant cash loan services offer fast and easy loans to almost anyone. No personal financial information or recent bank statements are needed to get instant loan without document. All you need to submit are a few simple questions about your credit history and how much you need to be approved.
Eligibility Criteria for Instant Cash Loan in 1 Hour
lendingplate is offering instant personal loan from ₹10,000 to ₹2,00,000 with few eligibility criteria. To avail a personal loan in 1 hour, there are a few things you have to take into consideration if you want to successfully apply for an instant loan from lendingplate.
You should have flowing eligibility criteria to eligible to the loan:
| | |
| --- | --- |
| Citizenship: | Indian |
| Age: | 21 Years or older |
| Minimum Income: | ₹20,000/Month |
| Employment: | Self-employed with regular salary credit in bank |
| Credit Check: | Yes |
Requirement of Paperless Documents to Apply for a Personal Loan
lendingplate provides digital loan which is a paperless process. A borrower needs minimal digital documents to apply for an instant personal loan.
| | | |
| --- | --- | --- |
| Identity Proof | Address Proof | Income Proof |
| Aadhaar Card | Aadhar Card | PAN Card |
| Voter Card | Rent Agreement | Bank Statements |
| Passport | Utility Bill | Employer ID |
| Driving License | | Salary Slip |
| Selfie | | Office Email ID |
Proof of Your Identity
First, you will need to go through some kind of identity verification procedure for us to know that the person applying for a cash loan is the actual owner of the registered email address on our system. Sometimes, scammers use stolen email addresses or even their friends' or relatives' email addresses to get an instant loan without document on their behalf. Make sure you check that it is your email address and not someone else's before submitting any personal information.
You will need to upload a picture of an official government photo ID card with a digital copy showing your correct name and date of birth. If possible, include a voter ID card, PAN, Aadhaar, and driver's license.
Proof of Your Address
For us to ensure that you are who you say you are, you will be asked to submit proof of your current home address. This is done to protect our services and lenders from fraud. You will be expected to provide a recent utility bill (such as a gas bill, electricity bill, or water bill) or a recent bank statement (such as a bank check or statement) showing your correct home address for us to verify your identity. Don't worry; we will never give this information to any third party, and it will only be used by us to determine whether or not you are eligible for a loan.
Calculate Your EMI with a Cash Loan Calculator:
Proof of Your Employment
You also must have proof of your current employment status. This can be a recent paycheck stub, a letter from your employer, or any official paper showing your income and employment details. Once again, we will only use it to match you up with the right lender that can offer you the best possible deal taking into consideration your financial situation. We will never share this information with anyone else.
Application Process for Paperless Personal Loan
lendinplate is a registered non-bank financial company which offers instant paperless loans to salaried individuals. Any working professional with Indian citizenship can avail a personal loan through their official website or app within 1 hour. The two methods for applying for a quick personal loan from lendingplate are listed below.
Option 1: Apply Through Website
Visit the official website of lendingplate: https://lendingplate.com
On the top left corner, you'll see the "Apply Now" button; click on it.
Now it will lend you on the personal loan page. Fill in your mobile number and get an OTP to verify the mobile number.
After verification of your mobile number, fill out all the required information and submit your loan application.
After submitting loan application lendingplate's credit officer will call you within few minutes or hours to process your loan request, and after completing verification, your loan will be disbursed into your bank account.
Option 2: Apply Through Instant Personal Loan App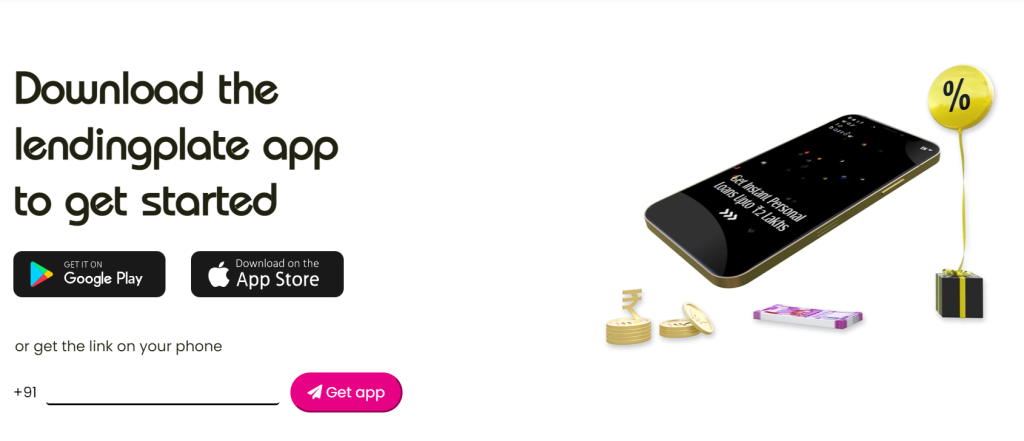 Android users can apply directly through lendingplate's personal loan app. The app has over 3 lacs downloads, ratings of 4.4, and is extremely easy to use. Download the app directly from the Google Play Store and fill out all the information to apply for a personal loan through mobile app. After submitting the loan application, a credit officer will call you within an hour to process your loan request.
Once you receive a personal loan, pay back your debt as soon as you can by depositing the money into your bank account or sending it directly to lendingplate via ACH transfer.
Here you can see a quick review of lendinglate's Android app:
What to Know Before Taking an Instant Cash Loan?
Before you start applying for urgent cash loan, there are some things you need to know first. Just remember that if you use our service to get an instant cash loan, you must be aware of the following:

Check Your Credit Score:
You need to check your credit score before applying for any kind of loan. It is true that even though credit is relative, every lender has its own set of rules and regulations as to what kind of credit you are eligible for and how much you can borrow.
Not every lender excludes people with a bad credit record from applying for a loan, but it's advisable you check it before applying because lenders generally set their standards depending on things such as your income, the amount of money you expect to borrow, and other important factors.
However, make certain that you do everything possible to improve your credit score. Your credit score depends very much on how well you manage your money and pay your monthly bills on time. You should always be well organized with all your payments, as this will indicate to lenders that you are responsible for managing financial matters.
Most lenders will require you to have a steady job and an active checking account in place for them to approve the loan. This is because they use these two things to estimate whether or not you can repay the loan without any serious problems.
Borrow only the amount you require. You should also get a loan just enough to cover the amount you need so that you will not be late in paying back the loan. This is because several lenders have various interest rates, which can increase if they see you as a big-time borrower.
To know your total expected payments, you need to first figure out what the monthly instalments for the loan and then make a projection for how many months are left for repayment.
Decide whether you want a short or long-term loan. There are instant cash loan lenders out there that offer short-term loans. This kind of cash loan is usually used for unexpected financial emergencies such as car repair, medical bills, or home repair. On the other hand, instant paperless loans can be used for various purposes, including home improvement, home purchases, and even debt consolidation. Short-term loans usually have an average APR (annual percentage rate) ranging from 36% to 60%. On the other hand, long-term loans have an average APR ranging from 10% to 20%.
The long-term loan has a lower rate because it covers longer repayment periods. It can take up to 5 years or even more to repay the loan, although there are some cases when it doesn't take that long. Anytime you apply for an Instant cash loan with us, remember that you must be able to repay the amount when it is due, not a day later.
Don't borrow any money you cannot repay because there are several lenders on our website. We strongly recommend you not to borrow money from any lender unless you intend on repaying it in full. The best thing about our service is that we connect borrowers with lenders, but we have no legal relationship with either party for us to offer an unbiased service. We can't ensure that all the lenders listed on the website are reliable, so you are solely responsible for checking the loan conditions and ensuring you understand them before applying.
Don't Overborrow:
You should also avoid overborrowing from different lenders. There is no sense in taking a cash loan if you need less than ₹10,000. This is because you will have to spend money on unnecessary costs, for example, paying for an application fee or paying for other small expenses that are irrelevant when it comes to getting a small amount from an instant cash advance lender.
Consider that when you apply for an instant cash loan in 1 hour without documents, you are entering into a contract with terms and conditions. Some lenders don't accept people who have a bad credit history or who are not in need of money. This is why the rules and regulations should be strictly followed to ensure no borrower will be pushed into a gap or, even worse, a legal problem.
Instant Cash Loan FAQs
Q1. Is prepayment possible in an instant loan without document?
A. Yes, prepayment is possible as long as both parties agree upon it or it's recommended by the lender. In addition to that, if you are going to prepay your loan, you should make sure you will not be charged any penalties for doing so. You will only pay a fee if a service has been rendered before the prepayment has been made.
Q2. What happens if I miss EMI payments?
A. To be able to get a loan, you will have to pay back the amount of money you borrowed, plus the fees that were charged by the lender. There will be consequences if you do not pay your EMI (emergency meaningful amount) payments on time. You can only miss one payment before your loan is considered in default, and then you will have to repay the whole debt plus all penalties that were applied by the lender.
You may also read this: Installment Loans
Q3. What happens when one doesn't pay EMI?
A. When the lender decides that either you or someone else is late in making an EMI payment, they will send you an email notification informing you of this, or they may also contact your employer to let them know about it.
Q4. Can one get an instant cash loan without the documents?
A. Yes, it is possible to get a loan without the proper documents if you have a job and a stable income. But we still recommend that you bring your identity card and other documents. That way, you can avoid unnecessary problems in the case of unforeseen circumstances.
Q5. Is there any way to apply for an instant cash loan in 1 hour?
A. Yes, you can make a direct application to get a payday loan online. The only things you need are an active checking account, a reliable email address, and a valid phone number in order to make the process easier for both lender and borrower. Remember that instant cash advance loans are not meant for long-term use, so it's best you repay them as soon as possible.
Conclusion
Getting money instantly may save you the hassle of spending a little time filling out a long application and waiting long hours in line at the bank. But it is only possible if you apply for a loan directly from the lender and not to any other source, which might ask for documentation that you can't easily provide.
With an instant cash loan, you will be able to solve your emergency issues when you need money fast. There is a wide assortment of lenders dedicated to providing cash loans to their potential borrowers. There are even online lenders that offer quick cash loans in an hour without documents.
They all provide a fast and easy application process and are quick to respond with approval or rejection of your application. All you have to do is apply for a cash loan and see what lender comes up with the best offer for you.