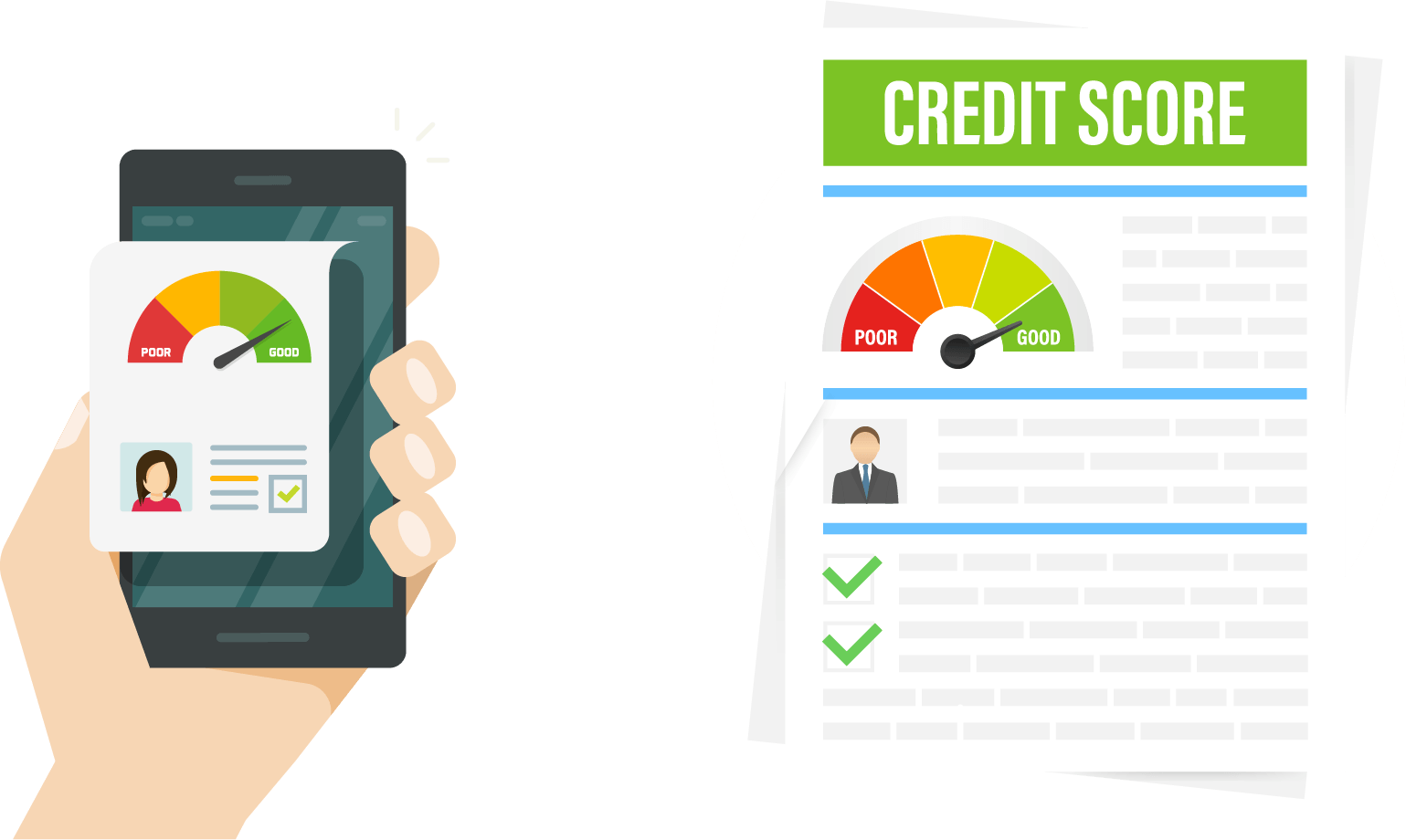 A huge part of financial management entails managing your credit score. If you are planning on applying for a loan or a credit card, it is important to understand what a credit score is and how it is calculated. You should also be aware of how a credit score varies from a CIBIL score and how you can improve it to increase your financial credibility.
Difference Between Credit Score and CIBIL Score
The difference between credit score and cibil is that a credit score is provided by all of the 4 credit bureaus in India. However, only the credit score calculated by CIBIL is known as the CIBIL score.
The credit score obtained from any of the 4 licensed credit bureaus is valid. Though most banks do prefer a CIBIL score. All you need to do to access your CIBIL score is visit the official website of the credit bureau at www.cibil.com. You can get your score for free.
What is a Credit score?
A credit score is an indicator of a person's creditworthiness as a potential borrower. Your credit score is a 3-digit summary defining your credit history. The credit bureau calculates this 3-digit score using your past financial behaviour. A credit score in India ranges between 300 to 900, wherein 900 is the highest.
A credit score is also commonly known as a credit rating. It is calculated after considering your credit history, which includes your total debt, number of credit accounts, credit card bills, credit utilisation information, and your repayment history. In addition, the number of credit enquiries for loan or credit card applications is also taken into account while calculating your credit rating. The higher your credit score is, the more responsible you have been with credit in the past. Here is a detailed article written on what is a credit score, read the article to know more.
The Reserve Bank of India (RBI) has licensed four credit bureaus - CIBIL, Equifax, CRIF Highmark, and Experian. Every credit bureau uses their own algorithm to calculate credit scores. Lenders usually give preference to borrowers having a credit score that is 700 or above. Ideally, you should check your credit score before applying for a loan or credit card. You can place an online request to receive your credit score on the credit rating company's website.

What is CIBIL Score?
A CIBIL score is a consumer's credit score. It is a numerical summary of your credit history and repayment behaviour. CIBIL stands for Credit Information Bureau (India) Limited, and is one of the four major credit bureaus in India.
A CIBIL credit score takes time to build up. It may take about 18 to 36 months of credit usage to acquire a decent credit score. The CIBIL score is a 3-digit number, ranging between 300 to 900. The banks and non- banking finance companies (NBFCs) consider a score of 750 or above very good.

Importance of Credit Score and CIBIL Score
Responsible credit behaviour can help you get preferential rates on loans, along with speeding up the approval process. Since your credit behaviour is numerically depicted in the form of your credit/CIBIL score, your credibility is gauged by the score you have.
Your CIBIL score/credit score plays a critical role in the loan application process. It is an important factor considered by lenders while offering you a loan or credit card. A higher score makes it easier for you to get a loan or a credit card. It also ensures that you get the best deal in terms of benefits and interest rates.
Your credit score serves as an important indicator to lenders of your capacity to repay your loans. It is prepared using the data gathered from lenders and is integrated in the Credit Information Report or CIR. Financial institutions use this information to determine whether to lend you money, and if so, then how much and at what rate.
Having a higher credit score increases your chances of getting a loan or credit card.
Some of the benefits of a good credit score are:
Higher loan amount
Better interest rates
Quicker loan approvals
Longer repayment period
Now that you aware of the importance of a good credit score, it will give you an edge to learn how to improve your credit rating or CIBIL score.
How to increase Credit Score?
You can improve your credit score by practicing financial prudence. Some useful tips to boost and maintain a good credit score are mentioned here.
Pay your bills on time: It is prudent to settle your credit card bills every month well before the due date. You must also avoid revolving credit, as it may be viewed as risky credit behaviour. Failing to make payments on time is a sure way of hampering your credit score. Every time you default on your payment, it gets recorded in your credit report and eventually ends up hurting your score. Not only setting your dues on time will save you late fees, it will also reduce the extra interest costs along with improving your credit score.

Don't overutilize your credit card: It is part of the responsible credit behaviour to keep well within your spending limits. Overspending on your credit cards consistently each month may be considered irresponsible by lenders. Try keeping your utilization ratio up to 30-40% in order to avoid any financial pressure later. You should always consider your capability to repay timely before indulging in overutilization. You should know the smart ways to use credit card for maximum benefits.

Maintain older credit cards: If you continue using older cards your credit history becomes stronger and lengthier. If you have a credit card account that you have been maintaining for a long time, it helps boost your score.

Keep a check on your score to spot errors and rectify them: If you have a good payment history yet your score seems to be dipping, it's likely that there's an error in calculation. You must address it and get it rectified timely.

Have different forms of credit: It is safer to maintain a healthy mix of secured and unsecured loans. A lot of unsecured loans can also have a negative impact on your credit score. Also, if you haven't borrowed money before, you won't have a credit history, which also affects your score.

Try keeping it to one loan at a time: The number of loans against you can also affect your credit/CIBIL score. It is recommended that you take one loan at a time, clear it off and then take another loan.

Negotiate your credit card limit: Since your credit utilization ratio can greatly impact your financial well-being, overutilization can lead to a dip in your score. You may negotiate with your bank to customize your credit limit based on your expenses.

Choose long-term loans: The interest rates and EMIs for long-term loans are lower. This makes repayment easier for you and minimizes your chances of defaulting. However, you will end up paying more interest in case of a long-term loan.

You may also read this: Personal loan myths
It is important that you keep a close check on your credit score. Not only will it help you ensure your access to a line of credit when needed, but you can spot if an error has been made in your credit score calculations, and can make timely amends. You should check your score online before applying for a financial product. In case you have a low score, you should work on improving it before applying for a line of credit.