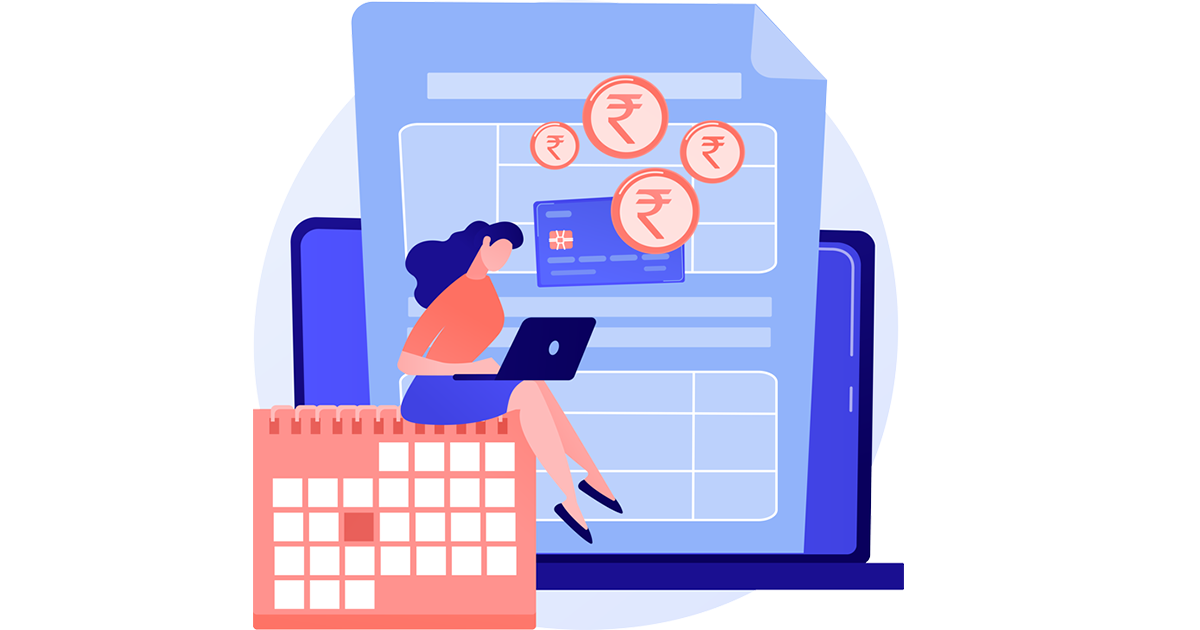 Unpaid debts can become an overwhelming financial burden, leading to a stressful lifestyle. Whether it's a past credit card bill, money owed to family members, or even payment for rent, it is essential to take care of any liability on time. Huge debts can lower your CIBIL score, so paying off loans with manageable monthly EMIs is advisable instead of allowing them to pile up and increase interest rates.
Debt consolidation loan will let you combine multiple debts and lines of credit into one loan, thereby streamlining your finances more effectively. Consolidating several debts into just one repayment plan makes tackling those payments much more manageable and saves time in the long run.
Consolidating your debts into one manageable payment may seem intimidating, but it need not be. With a proper understanding of your financial situation and a clear plan, a debt consolidation loan is achievable and likely more beneficial. Keep reading to know if debt consolidation is the best solution for your case and learn all its ins and outs so that consolidating debt won't feel out of reach anymore.
What's Debt Consolidation Loan
Debt consolidation is a way of using financing to cater to your other debts. If you have multiple debts, you can apply for a personal loan to consolidate them all into one. This will allow you to pay only one loan instead of many debts at higher rates. It is also easier to keep track of the debt this way rather than having multiple ones.
Consolidating your debt can be a great way to reduce the overall cost of what you owe because it can provide lower rates. Moreover, it is the best way to simplify your bills; instead of dealing with many lenders, you only have one to deal with. As long as you don't take on other debts, you can pay off your debt faster.
If you wish to consolidate your debts, there are numerous approaches. You can apply for a personal loan, home equity, or even a credit card and then use that money to pay off other smaller loans. To pay off other credit card debts, you can transfer the balance from your old card to a new one. Using this strategy of transferring balances will allow you to combine expenses and make it easier to repay the debt.
You may also read this: Reasons to apply for a personal loan
How Debt Consolidation Loan Works?
1. It Allows You to Pay Multiple Debts at Once
Consolidating debt can be a good way for anyone looking to manage their debts better. You can get funds and control your multiple debts from personal loans online, balance transfer credit cards, and other consolidation tools available from banks or NBFCs. You will now have only one loan to repay in monthly installments.
2. It Helps Simplify Finances
Consolidation not only simplifies the task of budgeting but also allows for accurate tracking. With a single payment every month, you won't have to worry about multiple invoices with various deadlines. This makes budgeting your finances easier since you know exactly how much money you need to set aside.
3. Makes It Easier to Afford Your Debts
Consolidating debts makes them more affordable. However, make sure you get a good loan interest rate. You can use an interest rate calculator from the lender to know the loan estimate. Furthermore, consolidating your debts will reduce the monthly payments since the debts will be spread over a longer period.
You may also read this: Circumstances when a personal loan helps
4. You Can Pay the Debt Sooner
Debt consolidation loan usually offer lower interest rates than individual loans, which means you can pay with extra monthly payments and finish your debt sooner. This will save you money in the future and put less strain on your finances now.
5. You Have to Sign a Debt Agreement
Debt agreements are contracts between a borrower and lender that clarify the amount of money one can borrow. Moreover, this agreement also stipulated you can use the loan amount to pay your outstanding debts. The agreement requires you to repay the loan in a specified time; otherwise, penalties will apply. Signing a debt agreement guarantees loan security and helps prevent the mishandling of borrowed funds. It's essential to adhere strictly to its terms so that repayment can be completed swiftly without any issues.
6. Consolidation Restricts You from Taking Out Additional Debts During the Process
When consolidating your debts, you are restricted from applying for additional loans. Otherwise, the repayment process could lead to an endless cycle of borrowing more money that is difficult to pay back.
When to Opt for Debt Consolidation Loan
It is more difficult to get out of debt than to accumulate it, particularly if you've amassed a big balance with an exorbitant interest rate. It could take a full decade or more to pay off the debts. As such, individuals are turning towards debt consolidation loan to help pay off their debts faster.
Before consolidating your debt, know that there are a few advantages and potential drawbacks that you should consider. However, since each individual's financial situations differ greatly, it is always recommended you get a financial advisor who can ensure your particular needs are addressed before proceeding further.
Below are a few scenarios that could indicate that consolidating your debts would be the right move for you.
1. When You Have a Monthly Debt Payment
Consolidation involves combining multiple things into one and debt consolidation, in particular, is a process of combining your various payments into a single monthly payment. If you are struggling to pay off your huge monthly bills, take this as your cue. Debt consolidation takes all your bills into one, helping you feel financially organized and not agonizing over how to evenly divide your income among all payments.
If you apply for a debt consolidation loan, the lender will offer you a certain amount, and once approved, you get your funds. Consequently, rather than making multiple payments every month, you only have one loan to take care of.
2. You Have High-Interest Debts
High-interest rates can make your journey to financial freedom slower, particularly when you have multiple bills and can only pay the minimum balance due each month. When you make the minimum payment each month, it likely goes towards the interest rather than reducing your principal debt. Consequently, you keep accumulating more and more interest charges every single month.
When consolidating debt, one significant benefit is the possibility of obtaining a loan at a lower interest rate. This could save you hundreds, maybe even thousands of rupees. Even though the interest you get may be slightly lower than the current one, it's still better than none. Even a small percentage of a single monthly payment can help you save money and have more control over your finances.
3. You Want to Be Debt-Free
Debt consolidation may quicken the process of paying off debt, but it won't necessarily guard you against cycling in and out of debt. After you get out of debt, you may still find yourself falling back into your old, unhealthy financial habits, which will eventually accrue more debt. Or, when paying the consolidation loan, you may continue overspending on the credit cards you are paying for. This means you will get stuck paying back your loan as you make monthly payments on the credit cards all over again.
To ensure you don't fall into the same debt pitfalls, it's essential to determine what caused your financial strain in the first place. Debt consolidation loans are the best tool to manage high-interest payments and reduce debts, but investing time in understanding how you got there is just as crucial for avoiding repeating these patterns. Create a plan to help you increase your chances of having a successful debt consolidation journey.
You may also read this: Smart way to use credit cards
Risks Associated with Debt Consolidation Loans
Before you apply for debt consolidation loan, you should assess your needs and compare them to your long-term goals. Consolidating your debts will save you money and organise your monthly payments. However, there are some downsides worth mentioning:
Debt consolidation will not solve all your financial problems: After taking a debt consolidation loan to pay your debts, avoid using credit cards which can increase the debt and make it hard to pay all the balances.
You can pay more interest: When you consolidate debt, it is possible to pay more interest. The first way depends on your credit score, loan amount, and income-to-debt ratio; the interest rate could be higher than originally charged. Also, if you extend the repayment term so that monthly payments are reduced, you may pay more interest.
Upfront costs may be charged: Despite the potential financial benefit of debt consolidation, you must be aware of any fees charged. For example, some lenders charge origination fees, prepayment penalties, and annual charges. So make sure to confirm what applies before taking out a loan.
What to Consider When Taking a Personal Loan to Consolidate Your Debts
Consolidating debts by taking out a personal loan can be beneficial if you're finding it challenging to manage multiple repayments; however, there are some key factors to consider before taking the loan.
Tenure of the existing debts: Before you take out a personal loan to consolidate your debts, check the tenure of each debt. If it appears that all of your loans can be paid off within several months up to one year, then there's no point in borrowing an additional loan to consolidate them.
Your Credit Score: Undoubtedly, a credit score impacts the rate of interest lenders charge. If your credit is excellent, it could mean getting an attractive rate. Alternatively, if your credit score is lower than average, the interest rate charged will likely be high. Before taking out a debt consolidation loan, check your credit score to ensure it's good. If you're confident that your credit score is up to par and you have a reasonable chance of obtaining an attractive rate on a personal loan, then it's worth going ahead with the application process.
Eligibility Criteria of The Lender: For your loan to be approved, you must meet the lender's eligibility criteria. Therefore, ensure you meet their conditions before submitting your application, such as monthly income, work experience, age requirements, etc.
Know the Interest Rates Applicable:Interest rates for personal loans can range from a low of 10.99% to an alarming 24%, and often higher. To get a good lender offering a good interest rate, compare different lenders to find one with suitable rates.
Repayment Term: When it comes to personal loan applications, you can choose a repayment period ranging from one year to five years. As this is the duration of time during which you will be consolidating your debts and reimbursing the loan amount, you need to evaluate your capability for payment and opt for an appropriate tenure that suits your needs best.
Conclusion
Debt consolidation loans can be a good solution for borrowers who want to combine their debt obligations into one payment. However, before you take a loan to consolidate your debts, it is essential to understand everything about it.