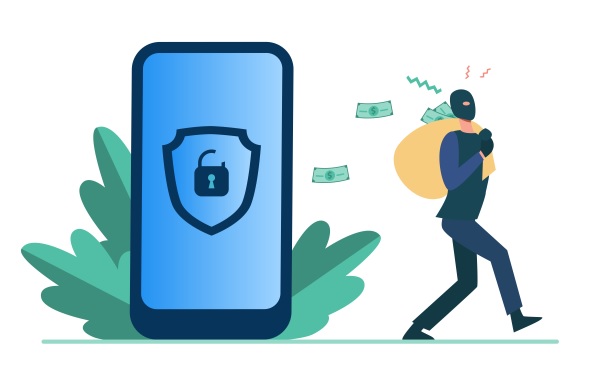 According to the Federal Trade Commission, consumers lost almost $3.3 billion to loan scams in India in 2021. Potential scammers will always aim to take advantage of the most vulnerable people. Loan scams typically cause mental and monetary damage. Scammers usually use multiple means to contact their victims. Below are some red flags that will help identify loan scams. Awareness of these scams is one of the most significant ways to stay safe.
The information provided here are tips for identifying loan scams in India and should be used as a guide for determining what is going on with your loan or other services. If you are unsure about anything, it's always better to either seek a second opinion from other sources.
How Loan Scammers in India Work
There are many different kinds of scammers out there. Some are part of a network or work as individual "scam artists." These scammers target people who are in desperate need of money and cannot qualify for a loan because of their heavy debt and poor credit score.
Identifying Loan Scammers in India
There are several ways in which you can identify loan scammers in India. Follow the below tips to keep yourself safe from scammers.
1. Failure to Check Your Credit History
If you are applying for a loan, the first thing the lender will do is to check your credit history. If you have a bad credit history, the lender declines to offer you the loan. You should be careful when you find a lender who does not check your credit history. All genuine lenders must check your credit history before approving or declining your loan application.
2. Unreasonable or Unrealistic Loan Amount Offered
If the lender is offering you a loan amount that is higher than your required loan amount, then it is also not genuine. No genuine lender will ever offer such a huge loan to an unverified borrower. The borrower must show some proof of identification and pass the verification process before they can get approval for a loan of any amount.
3. Upfront Loan Fee
You must be aware of the fact that any lender will never ask you for money upfront. It may surprise many people that most loan scammers in India impose upfront loan fees and ask the borrower to pay them before they can get the loan approved.
4. Poor Communication
As a borrower, if you are asked to send your personal information or important documents by email, it is obvious that the lender offering you a loan is not genuine. No legitimate lender will ever ask for such information via email because a simple email can be hacked by some unknown hacker. You should only discuss your financial details over an encrypted line or meet face-to-face with the lender.
You may also read this: Unsecured loans in India
5. Use of Pressure Tactics
Be very careful of the pressure tactics that scammers use. They will pretend to be in a hurry so that they can confuse you or make you feel uneasy. They may demand that you need to transfer money immediately.
For example, if you are told that to get approved for your loan, you need to send a small amount of money as processing fees, they warn that if you fail to pay the money on time, then your loan will be declined.
6. Lack of Enough Information About the Company
If you are applying for a loan from the company, then you must do your research by finding out as much as possible about the company. You may not find much information about the company on the web because they might be new or it could be operated from overseas or in another country.
It would help if you also asked for information regarding their policies before you submit your information to them. To make sure that you are dealing with a reputable business, do some research about that business by checking reviews and ratings on different websites.
7. Too Good to be True Offers
You should never give in to scammers and should never pay upfront. Once you send the payment, they will not come to your rescue, and once you fail to make the payment on time, they will not help you.
8. Bogus Guarantees
You should never settle for anything less than a genuine guarantee from a successful company, such as banks and loan companies. A guarantee shows that the company has confidence in you and your ability to repay the loan amount at a certain point in time.
9. Online Phishing
If the company's website uses HTTP and not HTTPS, you should be very cautious about the deal or offer. Many fraudulent websites use this technique to steal their users' information and personal details.
They ask you to create an account. However, they do not mention about any kind of guarantee on the website. Therefore, you should be very careful before making your account and providing personal information.
You may also read this: Credit Bureaus in India
10. Guaranteed loan approval
If you are looking for a loan, then be aware of lenders who claim they can make sure that you will get your loan approved. This statement by the lender is a clear sign that he is not authorized to give a loan but only wants to take advantage of your situation.
11. The Lender Keeps on Calling
If the lender keeps calling you, then it may be a sign of a scammer. Scammers may call you several times a day and pressure you to become their customer. Avoid lenders who keep making unnecessary calls.
12. The Lender with No Physical Address
It is common knowledge to all that if a company is dealing with loans, then it must have a physical address. Loan companies usually deal with banks, so they must have a physical address. If you do not find their contact information on their website or Facebook page, then you should be very cautious of them.
Types of Loan Scams in India
1. Loan Fee Scam
This is one of the most common scams in India. Clients have been approached by unscrupulous people with a loan deal they cannot refuse. The scammers ask for a loan upfront payment and block you after receiving the loan processing fee.
2. Private Student Forgiveness Loan Scam
Some people approach you for a private student loan. The people claim that you need to pay the processing fees in advance, and if you fail to pay the fee, your loan will be automatically canceled. If lenders approach you, claiming that the loan is a private student forgiveness loan, then you should avoid them.
Who is Most at Risk for a Loan Scam?
According to a study by the National Police in India, women are most at risk of being scammed by loan scammers. The National Police say that women are more vulnerable because they are often unaware of the possible threat and make decisions based on emotions rather than logic.
People with trouble getting loans are also at high risk of being targeted. Scammers are aware of a situation like this, and they use it to their advantage. If you are not careful enough and do not have the right knowledge about loan scams, you could easily be scammed by a fraudster.
What you Should Do After Realizing That You Have Been Scammed
1. Gather Documentation of What Happened
You should collect evidence and information regarding the scam action. One of the ways to do this is to gather evidence on your phone. You should save all your phone conversations and emails regarding the scammer.
You should also take photos of all the incidents that took place and document them. By collecting such important evidence, you will be able to prove what happened and make a case against loan scammers.
2. Report the incident to National Police
In some situations, law enforcement agencies may not help you, but they can help you if they are notified in time. You should make sure you tell them about the scam and provide them with all the evidence on time.
You may also read this: Things to consider before taking personal loan
3. Inform Your Friends and Family Members
If you have fallen victim to a loan scam, then make sure that you inform your family and friends about it. It would help if you also warned them not to fall prey to such scammers.
In conclusion, loan scams are a common problem in India. All you can do is stay informed and be careful while dealing with loan companies and lenders. It is best to avoid dealing with such companies if you find anything suspicious or do not receive important information regarding the company. It is better to avoid loan scams in India by researching and being aware of their scam tactics.