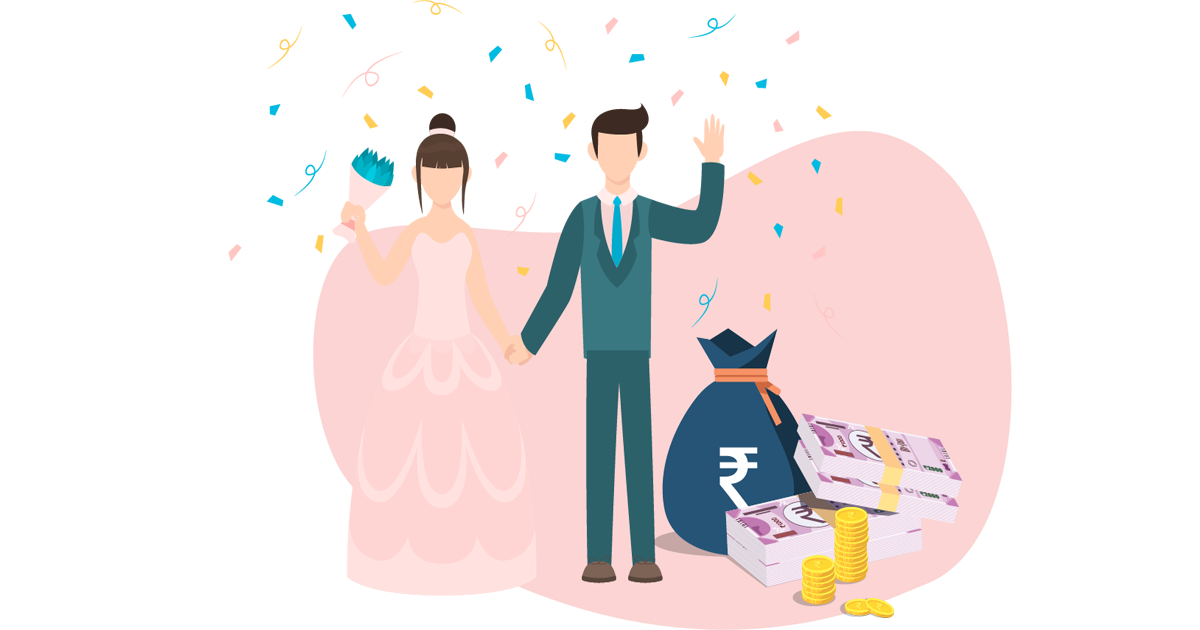 Marriage is a crucial event in a person's life. It is a time when you promise to love and care for each other till death. But, to make your special day enjoyable, you have to be financially stable. This calls for a marriage loan. But, before you can apply for such a loan, it's ideal that you be eligible.
Marriage loans can help you meet your family's needs during and after marriage. If you have taken this loan with a good interest rate, there is no reason why your marriage should not be fruitful. Any loan comes as a lifesaver when you have an emergency. You can avail of this type of loan and repay it within the agreed period with your lender.
But, the main concern before taking a marriage loan in India is to know the various marriage loan interest rates that apply. This should be looked at with great importance. Usually, lenders like lendingplate provide personal loans at an interest rate that ranges from 5% to 10%. Make sure you think about interest rates as you get your loan.
What's a Marriage Loan?
A marriage loan is a short-term loan that is taken by newlywed couples to bridge the difference between the expenses at their wedding and savings. The loan is usually taken in one go by the bride's family and repaid at a later date.
It is a source of finance that helps meet other expenses arising from the marriage. It is clearly visible from its name that this type of loan is taken for meeting marriage-related expenses only. You must take this loan at a lower interest rate so that when you repay it back, you won't be paying a lot.
It is legal to take a personal loan for a wedding event. Many institutions offer this loan at a very low rate. Although many online lending companies choose to lend money to people, most of them do not charge interest, but you should be cautious while selecting the company.
Marriage Loan Interest Rates in Indian Banks
SBI (State Bank of India)
This is a multinational bank that has its headquarters in Mumbai, Maharashtra. It is ranked well on the Fortune Global 500 list and is the 43rd largest bank worldwide. It has more than thousands of branches with its widespread operations in India. Its interest rates range from 10.30% to 13.60%. 15 Lakhs in the maximum loan you can borrow. SBI doesn't have a processing fee for any loan you take.
HDFC (HDFC Bank Limited)
HDFC is one of the leading banks in India, founded in 1994. The bank's headquarters are in Mumbai, and it is the 10th largest bank by market capitalization. Its interest rate for loans ranges from 11% to 22%. The minimum loan tenure is 12 months, while the maximum is up to 60 months.
ICICI Bank
ICICI is a multinational banking service headquartered in Vadodara. Its interest rates vary, but it is normally between 10.5% and 22%.
You can now see that some of the banks offer higher marriage loan interest rates than others. Interest rates determine the amount of money you have to repay. The lenders can charge up to 30%, which is sometimes available at a much lower rate.
But, to be on the safe side, get your marriage loan from lendingplate. It is a private-sector lender that provides different types of loans. The company focuses on bringing down the interest rate to a maximum of 10%. With its higher lending standards, it helps people a lot to get their loans. While most lenders are at an interest rate of 20%, lendingplate's minimum is at 5%, which is, in a real sense, quite affordable for an average individual.
What to Do Before Taking a Loan?
Before applying for a marriage loan, ensure you are aware of the procedure and required documents. The lender will ask you to fill up an application form. If you have all the documents needed, it will be much easier for you to get your loan approved.
How to Apply for a Marriage Loan in India?
If you decide to take a loan, you can easily apply online. You must provide your personal and financial information, such as your income and employment conditions. If you have no bad credit history, then it is easy for you to get the loan approved.
Documents Required for Loan Approval in India
Most of the banking institutions may ask for a few documents like:
Salary slip
Income proof (Latest 3 months bank statement)
A passport size picture
Identification Proof (Aadhar Card/Voter ID/Driving License etc.)
This is all that is required. So, it's easy! You can easily apply online and get approved.
What to Consider When Looking for a Lender
Although you can get a wedding loan online very easily, you need to know the important things that come with such loans.
Check the interest rate of the loan: It is an important decision you must make before choosing a lender. You have to check the marriage loan interest rates to determine your repayment amount. The average interest rates range from 10% to 20%. lendingplate, on the other hand, offers a very low rate of 5%.
Loan tenure: You must check how long you will repay the loan. You must understand the loan tenure because it will determine the amount you need to repay. It is very important to get a loan tenure of less than one year. lendingplate has a maximum loan term of 15 months.
Conclusion
Now that you know the various wedding loan interest rates in India, it is easier to decide on the lender. Whether you want to go with a lender with a high- interest rate or a low rate, it is up to you. But no one will want to take a loan with a higher rate, right? lendingplate has all the answers that you need.
Marriage is an important event. Like any other financial event, a wedding sometimes needs a loan to meet certain costs. So, ensure you opt for a loan at the lowest interest rate. You have to ensure that you keep your money well and choose the right lender who can give you the right loan at a good interest rate.
lendingplate is a leading company that has been established with several initiatives. It gets many happy customers daily by offering them loans at a lower interest rate with a low processing fee.