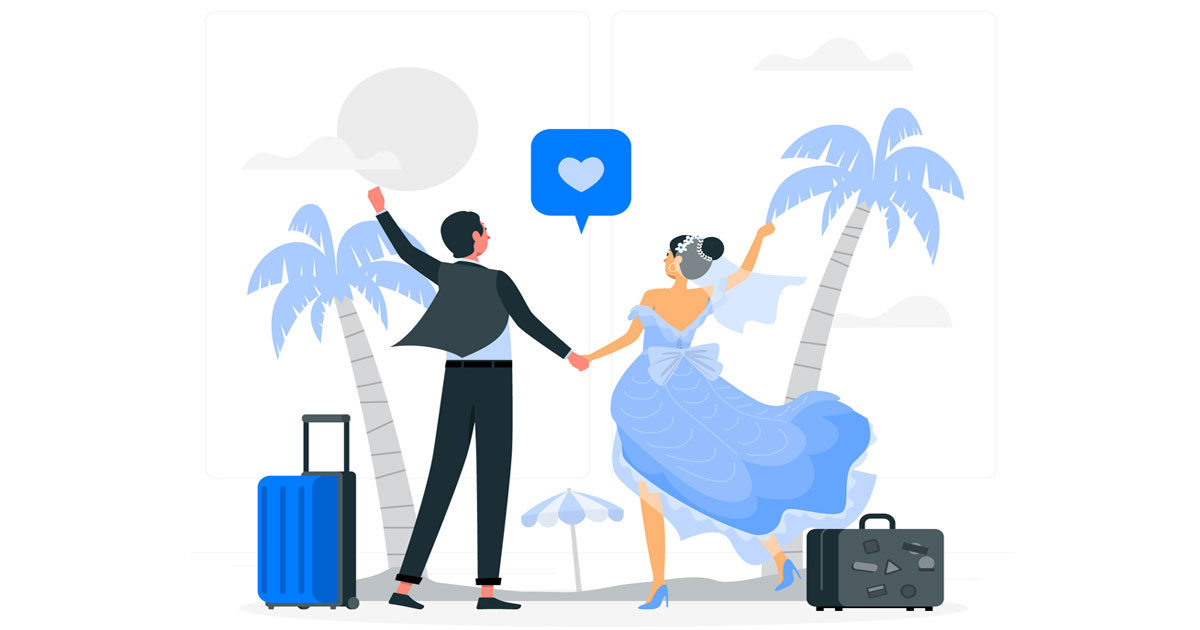 The chance to shift gears and start making plans for a fresh beginning, starting with the honeymoon, is a welcome one after the wedding festivities and stressful commitments.
As the wedding season begins and the year-end holiday's approach, many individuals start making plans for their honeymoons for the next three to four months. Honeymoon excursions can be very expensive and strain your finances. While a honeymoon is a time of unbridled joy, it can also be expensive. Every time, it is not possible to have enough savings to finance a trip, but with the help of a personal loan for a honeymoon, you can easily fulfil your dreams of having a perfect honeymoon abroad.
Personal loans include honeymoon loans. One of the simplest methods to finance your ideal honeymoon is with a personal loan. Personal loan for honeymoon expenses comes with unsecured instalments. These types of personal loans can be easily repaid over time at predetermined intervals and can be obtained from banks, or private finances. The rate of interest doesn't fluctuate much during the entire loan tenure.
You and your spouse don't have to rely on family or other close friends to make the vacation happen. This enables you to plan without compromising on your budget. Couples typically make every effort to maximise delight and make the most of the vacation time to cover the costs of the honeymoon because such occasions don't occur regularly. Personal loans are also known to be processed quickly.
Things to Keep in Mind Before Applying Personal Loan for Honeymoon:
There are a few crucial things that you should think about before you decide to apply for a personal for your honeymoon expense:
1. Your Economic Situation
It's crucial to think about how much of your trip's costs your savings will be able to cover. Before planning to avail of a personal loan for honeymoon expenses, check your eligibility for the loan amount.
2. The Duration of Your Journey
The place you've chosen will have months or seasons when tourism is at its peak. Costs are frequently high during this time. It is critical to consider this before developing a spending budget.
3. Establish a Budget Estimate
You must estimate the cost of your journey. When doing this, always assume the highest daily spending level. It could be useful to think about the places where you will spend your money most frequently. Even if hotels and flights can be booked in advance, you still need money for daily needs. You can wind up underestimating the amount since you believe you will reduce your everyday spending. After all, this is a very special trip, so don't hold back on making it something to remember.
Refund Amount
Repayment is a crucial aspect to take into account. Talk to the lender about the monthly payment plans so that there will be no burden on you and your spouse after the trip. Choose interest rates and repayment plans wisely when availing of a personal loan for honeymoon expenses.
Requirement & Benefits of a Honeymoon Loan
Personal loans and honeymoon loans frequently have the following requirements:
1. Get Instant Loan Approval
Personal loans are useful for people who need to travel urgently or who have longer- term plans than just taking a commercial flight. Getting the money, you require is simple, particularly if you're organising a surprise trip like a honeymoon.
The majority of financial organisations today provide quick and simple access to money. You merely need to guarantee that all necessary documents are in order and that you meet their minimal qualifying standards.
The lenders decide whether to approve your loan based on merit. When you submit your application to apply for personal loan, they immediately review its merits using cutting- edge technology to make sure that the credit scores, employment history, and other risk indicators are properly evaluated.
- Get a honeymoon loan by:
Get your paperwork ready and check your credit report. Ensure that you are aware of your credit score and debt-to-income ratio.
Obtain pre-approval. As a result, you will be able to compare APR offers from several lenders without having a hard query made on your credit report.
To determine which lender best suits your needs, compare their APRs, loan conditions, and origination costs.
Complete the application, which requires the submission of pay stubs and bank statements as well as a rigorous credit investigation. Please take note that a hard inquiry will lower your credit score.
Get your money and begin making travel arrangements. While some lenders may take a few days, others may process the application and disperse the funds the same day.
You may also read this: Factors that affect credit score
2. Credit Score Requirement
Although those with credit scores below 640 may still be eligible for personal loans, lenders often favour borrowers with scores above 640. A credit score of 740 or more is frequently seen as excellent by lenders, which could lead to a cheaper interest rate. In contrast, borrowers with lower scores should normally expect higher interest rates.
3. Minimal Documentation Requirement
As was already said, the majority of personal loans only require minimal paperwork. Only legally binding identifying documents, such as your PAN card, Aadhaar card, and six-month worth of bank statements, are required on your end.
4. Debt-to-Income (DTI) Ratio Maximum
Your DTI ratio, which is expressed as a percentage, shows how much of your gross monthly income is used to pay off debt. Lenders have different DTI standards, but for the most part, a personal loan applicant should have a DTI of 36% or below. Some lenders are a little more lenient and only want a DTI of under 40%.
Speedy verification process, just enter the mobile number associated with your PAN card and Aadhaar card.
You may read this: Loan on Aadhar Card
5. Get Instant Money as a Loan
Nowadays, personal loans are processed in an absurdly short amount of time. Some lenders will even provide you the money you need the very next day.
Some even provide entirely online application procedures, where you just need to enter a few details and upload the required files to finish. After carefully reviewing your application, the lender will deposit the funds into your bank account. You can accomplish all of this without leaving your home!
6. Raising Credit Scores
A personal loan for honeymoon might undoubtedly help you if you want to enjoy your honeymoon. What if, however, we also told you that it would help you build a better credit history? It can be used to establish a solid credit history and make you eligible for additional loans in the future.
It is advised that you use a loan calculator to determine your affordability before choosing a personal loan for a honeymoon and that it fits into your spending plan. Additionally, there are several things to keep in mind, such as the interest rates the lender chooses to give. And if the reimbursement was successfully made without any problems, your credit score will noticeably increase.
Conclusion
One of the first and most special journeys you will go on with your husband is your honeymoon. You can keep your savings intact for future crises and necessary costs by taking out personal loan for your honeymoon. Therefore, it's crucial to note that you are looking at ways to maintain your present financial situation in addition to improving your current budget.
In this way, you can get ready for future circumstances when a personal loan can help and where you'll need to pay large sums of money quickly and have a quick response. You will get the finest bargain if you keep the dangers in mind and work with a dependable lender for the loan.