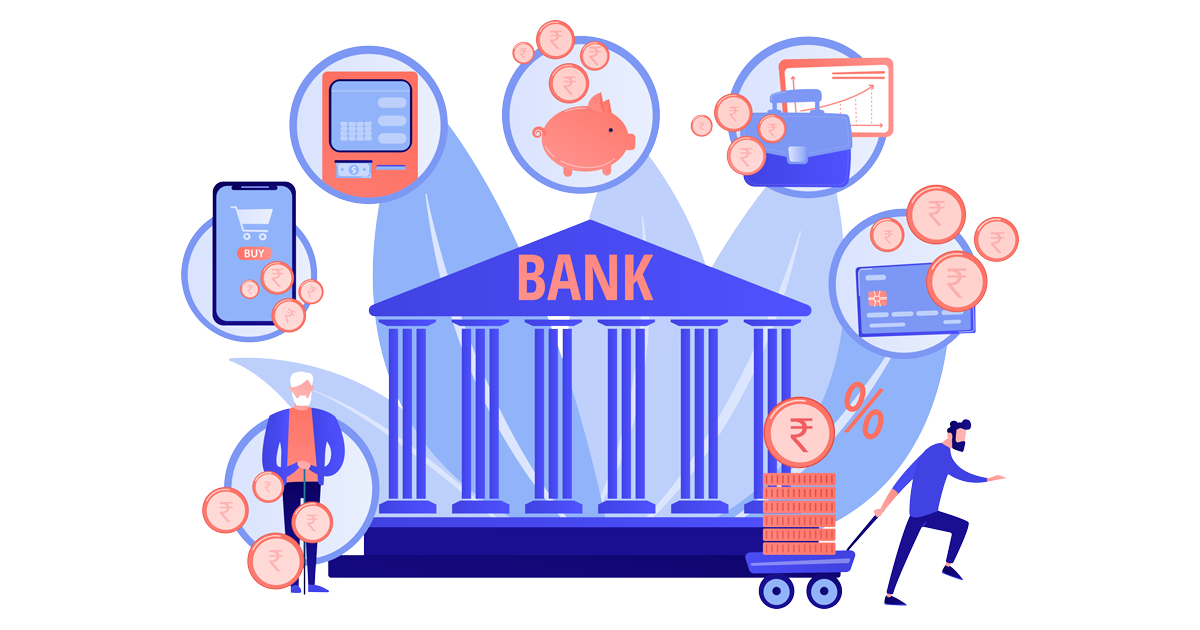 Personal loans are one of the many ways to get funds to meet your financial needs. There are various types of personal loans available in India for different purposes. When you need a personal loan, it's important that you know all about the different types and their benefits so that you can choose the one which will suit your requirements best.
No matter what your requirement may be, the chances are that you can find a personal loan that will suit your needs. If you are looking for a personal loan in India, you have come to the right place. This post is all about lending options available in India and how the first step towards getting a personal loan is to decide which type of financing works best for your needs.
Types of Personal Loans
There are many types of personal loans available in India. Depending on your financial situation and requirements, you can choose from the below-mentioned types:
1. Wedding Loans
If you are getting married, you can avail a wedding loan to meet the expenses of your wedding. Many lending institutions offer this loan competitively to finance certain wedding expenses.
This loan is offered to people who want to tie the knot. However, you might want to consider all the implications before taking this loan. The major benefit of this loan is that it allows you to get cash fast. The interest rates on wedding loans are relatively lower than other personal loans, with lower interest rates for women than for men. You have a year or two years before you have to start repaying the loan with zero percent interest during that time frame.
Engagement rings or wedding rings, decorations, and gifts on the occasion of weddings usually carry a higher value than the usual ones. If you want a loan to get married, you can try borrowing the loan.
The biggest drawback in getting a wedding loan is that your partner has access to your finances, including all bank accounts and investment investments. A huge downside of these loans is their high cost and penalties for not repaying them on time or even paying late.
2. Education Loans
If you have a child with good grades in school and you are planning to go to college, this might be ideal for your child's future. You can take this loan to pay tuition fees, school books, exam fees, and more. The duration for which the loan has to be repaid is about five years. You will have to be able to keep up with the interest amount you have to pay on your loan during this time. However, there are no penalties or extra charges for late payments. You might want to consider all the implications before taking this loan.
3.Top-up Loans
This loan is among the types of personal loans in India and is offered to people who want to buy a car, pay off credit cards, or take out a telephone line. However, you might want to consider all the implications before taking this loan. The interest rates range between 6% and 20%. If you are late making a payment and your payment is 30 days late, your interest rate will rise by 25%. Late payments also carry penalties. These loans usually carry higher rates than other personal loans, with higher interest rates for women than for men. Also, top-up loans are normally given out at lower interest rates than short-term personal loans. They might not be available for large amounts of money and are meant for relatively short periods (12 months or less).
4. Vacation Loans
In this type of loan, you can get up to 10% per annum without any interest rates. You can avail of this loan if you are in a position to purchase a home or make investments. However, the major drawback is that you have to pay 15% of the amount as an annual premium. If you cannot pay off your loan in the first year, you will have to pay an additional 10% interest on the principal amount. If you are late in repaying the loan and it extends beyond one year, you will have to pay an annual premium of 10% on the principal amount.
5. Medical Aid Loans
These loans help pay for medical expenses (including treatment and medicines) from private hospitals, approved by your bank or insurance company if applicable. Your bank or insurance company will give you a lump sum to buy your medicines and treatment. They will also arrange for your treatment. The major benefit is that there are no interest rates or penalties for late payments, and you don't have to pay any income tax on the interest amount you receive from this loan. However, you might want to consider all the implications before taking this loan.
6. Business Loans
This is any loan that is used to set up and run a business. These loans have their own set of criteria to be met. You will have to submit a business plan, pass the credit check, and provide all the administrative duties given by the bank or financial institution. The interest rates range from 12% to 15%. If you are late in repaying your loan, penalties and interest rates increase. These loans cannot be taken out very quickly but are convenient and flexible when they do arrive.
7. Agricultural Loans
It is a personal loan to help farmers with agricultural-related expenses. Private banks generally give out loan, but other financial institutions in India can also offer them. This kind of loan is quite popular in rural areas as people often need a lot of money for agricultural ventures.
The major advantage of this sort of loan is that there are no interest rates charged on it, and the repayment period is long enough to enable you to pay it back.
8. Home Renovation Loans
Home renovation loans are personal loans that enable you to buy new home furniture, appliances, etc., for your new house. The loan amount is usually sizable, and you do not need to provide any collateral for the loan. These loans have a high-interest rate, making them less popular compared to short-term financial loans, but they can be taken as emergency money.
The maximum amount you can borrow for home renovation loans is 75 to 80 percent of your equity value. To get a loan, you need to prove that you have the ability and financial capacity to pay back the loan.
9. Insurance Premium Loans
This type of personal loan is designed for people with insurance policies with a certain amount insured. You must submit your insurance policy and complete all other formalities needed before taking this type of loan. You might want to consider all the implications before taking this loan as it has higher interest rates than other personal loans with higher interest rates for women than for men. This kind of insurance is one that covers life insurance, health insurance, and accident insurance.
10. Overdraft Loans
An overdraft is a loan taken against the available funds with a bank account. It is an arrangement between the customer and the bank to give their customers more cash in their bank accounts in exchange for a higher APR and lower interest rates than other loans. This means that principal and interest payments are deducted from the fixed deposit or other loans you have taken before you take this overdraft. So, if you have borrowed Rs. 40,000 but have only used Rs. 20,000 of it and paid back Rs. 20,000 (60% of what you took), then your credit standing will not be affected; your regular savings account balance will always be 20 000 (from where your monthly payments are deducted).
11.Consumer Durable Loans
This type of loan helps people purchase durable consumer items, such as a refrigerator, washing machine, microwave, TV, etc. The loan is essentially a loan taken in order to finance the purchase of a durable good; wherein your lender will pay the merchant in cash, who in turn gives you the item.
The interest rates are usually higher than other personal loans (even if taken for medical expenditure). This is because most lenders consider this to be an expense for the customer and an opportunity for them to make money. Also, most lenders do not accept all kinds of goods as their collateral.
Furthermore, the loan period is very long when compared to the other personal loans. So, you need to purchase an item that you can use for a long time before taking a loan like this.
12. Pension Loan
A pension loan is essentially a type of personal loan to help you fund your retirement. These loans are usually offered by banks and other financial institutions to senior citizens above 60 years of age. The amount of loan you can take is decided by your age, the number of years you have worked, and your pension plan.
As the name suggests, the loan can be taken from your employer or a financial organization (on the condition that you have an employment history) and can be used for a variety of things. The amount of money you can borrow (and the interest rate charged on it) is decided on your age, income level, and some other factors. It is important to note that you cannot take this kind of loan if your income level is less than a certain amount.
Pensioners are allowed to borrow at least 7-10 times their pensioner pension plan. Hence, if you are a pensioner and you have Rs. 7,000 pension per month, then you're allowed to borrow Rs. 90,000-100,000.
13. Higher Education Loans
A higher education loan helps students with money for their education. These loans are usually offered by banks, financial institutions, and the government. It is important to check the terms and conditions given by the lender before applying for this loan.
These loans are used by students who are enrolled in higher education programs and undergraduate and postgraduate programs. The loan is usually taken by those students who cannot afford the high cost of education.
14. Festival Loans
A festival loan is to help you hold parties and use it for expenses involved in festival-like decoration, food, and gifts. You can borrow money from friends, family members, and other private lenders (which might have very high-interest rates). It is better to consider other options before taking a festival loan. These loans are usually expensive, and the interest rates are quite high. It is important to keep in mind that loans taken during a festival season should be paid back right after the celebration is over, rather than deferring over a long period of time.
In recent years there has been an increase in the number of companies offering unsecured personal loans in India, especially online. These companies have started doing business in a virtual work environment to avoid the legal and regulatory requirements of doing business under a physical office. The companies charge an interest rate of 15%-30% per annum plus additional fees.
Unsecured loans, especially personal loans, require that lenders make an initial charge called a loan origination or commitment fee. This allows the lender to pay for the administrative costs related to writing, processing, and underwriting the loan. This charge is usually around 1%-2% of the principal amount and is paid at the time of disbursement.
If you are applying for a loan online, then you should ensure that your credit rating files with only one credit bureau.
15. Debt Consolidation Loans
A debt consolidation loan is basically a personal loan that you take to pay off your existing debt. This can be a credit card or a mortgage (mortgage loan). It is one of the things that many people are looking for in India, but it is also known that there are many people who apply for these loans, like scams and frauds. You can try this before you apply, and if it does not help, then you should try some other options that can help you to get out of debt faster.
16. Short Term Personal Loan (STPL)
This personal loan is available for personal, business, or household purposes. It is very flexible. You can get it for the following purposes:
To pay off existing debt and meet other expenses (such as medical bills) for six months to a year
To buy property to rent or buy
To start a business and pay off debts (banking loans are also eligible for this purpose)
You can get these loans with monthly payments that cannot exceed 25% of your gross monthly salary. Interest rates range from 1% to 9% a month depending on the loan amount, term and tenure. For higher amounts, you will have to pay more interest than your current interest rate on credit cards.
Conclusion
In conclusion, the above aretypes of personal loans in India. You can get these loans at no hassle if you know where to look and have a good credit score. In fact, if you have a bad credit score but not bad enough to be scored as 'sub-prime,' personal loans might be your best way of getting fast cash. Personal loans are great in that they do not require collateral, such as gold or real estate. However, it is very important that you don't take out more than one loan at the same time because 15% of one loan is much higher when you add it to your other bills.