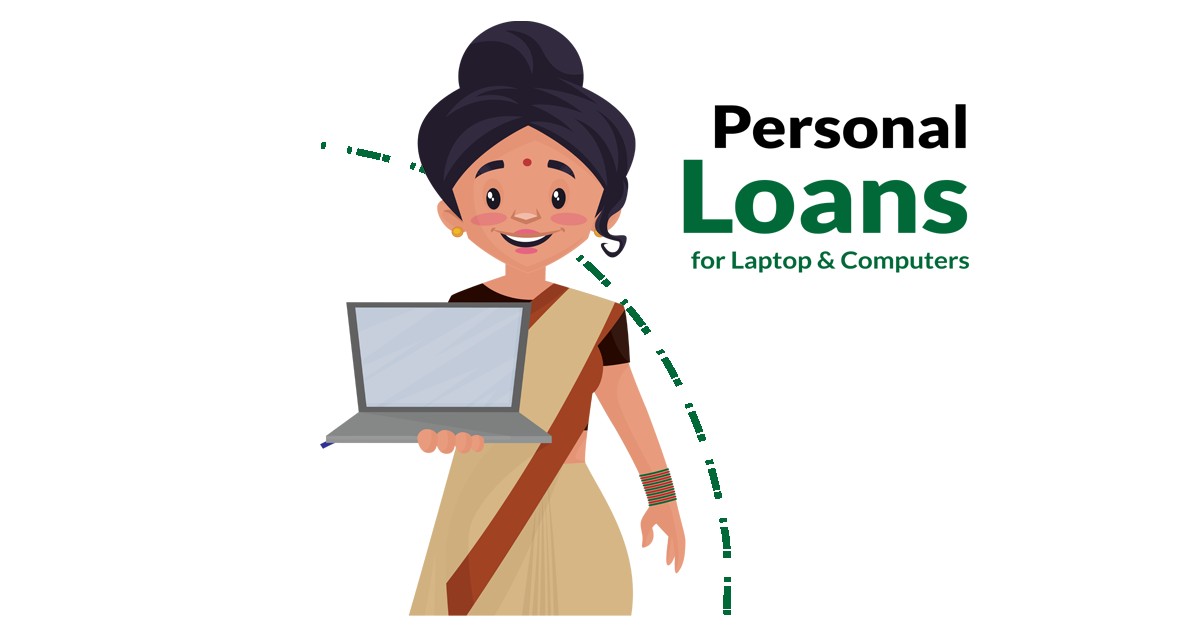 A laptop is no longer a luxury but rather a necessity for students, working professionals, and even stay-at-home moms. After all, it helps make work easier and allows individuals to access useful information online. Nowadays, it is possible to find reliable laptops within a reasonable price range; however, if you want the best laptop that meets your needs and stands the test of time, you may need to invest in something more classic. This means you have to use a good amount of your money on the item. But have you saved up enough? If not, a personal loan can save the day.
Yeah, you heard that right. Nowadays, it's easier to buy a laptop and computer with a personal loan. When you want to buy a laptop or computer but don't have enough money, you can decide to take out a personal loan and buy your ideal machine immediately without any hassle. Then you can repay the loan in installments.
A Personal Loan for a Laptop and Computer
Today, a laptop or computer is a must-have gadget for any person. Luckily, banks and NBFCs have realised this and now offer personal loans to help individuals buy them. Whether you want to purchase a new laptop, upgrade to the newest model available, or get repairs done, you can do that freely with a personal loan. You don't have to wait forever to save enough funds before getting the latest model in the market. You can get the loan instantly and buy a PC for you.
Not only that, but when the repayment time comes, you can repay your loan with low installments every month, which surely can't be a burden to you. However, it is ideal that you find a reliable lender to give you the loan. Luckily, there are many online lenders today, and getting a loan to buy a laptop or computer is very easy.
It's so exciting to get a new laptop or computer. But before you take out a personal loan to make such an investment, it is ideal that you look into some key considerations. First, you should know the cost of the laptop or computer you wish to buy and the amount the lender is willing to lend you. Also, check the interest rates that come with the loan to help you know how much you'll be repaying. The repayment period, repayment costs, and other details may help you determine whether you are getting a good machine for the money or are being saddled with unnecessary costs.
6 Reasons to Buy a Laptop or Computer with a Personal Loan
With the ever-growing presence of online lenders, finding a personal loan for your needs is easy. Unlike credit cards, which you pay off over time with interest rate, this type of loan gives borrowers an upfront lump sum and requires regular repayment in installments till the end of the loan's term. So for those looking for a way to finance their next big purchase, like a laptop or computer, personal loans are an ideal option. They provide longer repayment periods and lower interest rates as compared to credit card interest rates, which are quite high.
Here are more of the reasons to buy a laptop or computer with a personal loan:
1. Full Funding for Your Gadget
Purchasing a quality laptop is very expensive. The price can range from 60,000 to Rs 1.5 lakh, and paying everything from your pocket can mess up your budget. Sure, it is possible to pay the amount if you have savings, but you will be left broke. To avoid this bothersome situation and secure full funding for your purchase without making any down payment, consider taking out a personal loan.
2. Very Affordable
The good thing about getting a personal loan is that its rates aren't much higher than those of credit cards. This makes them quite affordable for many people. Unlike other loan options, such as vehicle loans, the loan amount isn't derived from the resale value of the asset. If you have a strong financial history, obtaining a loan with competitive interest rates is relatively easy. Financial institutions assess your income, credit report, and other elements to decide the personal loan rate of interest.
3. Simple Eligibility Requirements
The first thing to do before applying for a personal loan is to check if you meet the eligibility requirements. Usually, a lender will assess if you are eligible for the loan before they approve it because a personal loan is unsecured, which means no collateral is needed. As such, the lender has to be certain you are the right person to get the loan and be sure you can pay it back. Some of the eligibility requirements you should meet include the following:
Be 21 years old.
Be an Indian citizen.
You should be receiving a salary of Rs. 20,000 a month.
Be a self-employed individual or salaried professional.
Apart from that, you should also be able to provide the required documents, such as;
Bank Statement, Payslip, and Employer ID as proof of income.
PAN card or Aadhar card as proof of your identity.
Passport, Utility bill as proof of Address.
4. Fast Fund Disbursal
Have you been patiently waiting for months to purchase the laptop of your dreams? Well, through a simple application process and faster disbursal of a personal loan, you can get hold of it on the same day. All you have to do is visit the lender's website, fill out an online form, and upload the necessary documents. Then sit back and wait for your money to be credited to your account.
5. It Can Boost Your Credit Score
After you get approved for the laptop or computer loan and start making payments, each on-time loan payment will have a significant effect on your credit score. If you maintain this habit of paying off your loans regularly throughout repayment, you'll likely see an impressive boost in your overall rating. Lenders take special notice of consistent patterns of timely repayments, so chances are high that future applications for credit cards or other loan accounts will get approved easily.
To protect your credit score from unnecessary hard inquiries, look for pre-qualified loan offers. Pre-approved means that your credit rating meets the criteria of a certain lender and that you are likely to get approved. To maximize your chances of success, only pursue loans and lenders within your accepted range and ask many questions before applying to avoid declined requests, which might reduce your credit rating.
6. More Time to Repay
The biggest advantage of a personal loan for laptop and computer is that you are given a flexible repayment time to help plan. Once you sign the paperwork, you have several weeks to one year to repay the loan. This helps to break down the repayment amount into small monthly installments.
Never forget that you will have to pay it back after borrowing it. Although taking out a loan or applying for a credit card can provide temporary relief and help manage financial issues, it should only be done with careful consideration and planning to ensure you can make timely repayments. Avoid using these methods as substitutes for free cash; using them recklessly could have devastating consequences on your finances.
Is it a great idea to get a personal loan to buy a laptop or computer?
If you're considering taking out a personal loan to buy a personal computer, you must first know what you intend to use it for. Do you wish to use it as an investment in your business, for school purposes, or do you just want to use it for browsing the internet occasionally? In short, this is something you have to decide on your own.
When considering the reasons for purchasing a computer, it is important to weigh your options carefully. Getting a personal loan may be beneficial if you have a practical need, such as work or school. However, if your major reason for getting a laptop is for shopping and chatting online with friends, it would probably be better to save and buy the laptop from your savings. Ultimately, you need to think carefully when deciding whether or not to get a personal loan to buy a computer.
Purchasing a modern laptop with the latest technology capabilities can be costly. Even a core i5 laptop starts at Rs. 40,000, and gaming laptops could cost as much as Rs.1 lakh or more. While it may require some investment upfront, investing in a quality computer with impressive features will certainly pay off in the long run. When your budget is tight, how can you afford a quality laptop? Don't let money worries put a damper on your plans; get a personal loan today from lendingplate and put your worries at bay.
To Conclude
Owning a laptop that meets your needs in terms of settings, configuration, and settings is essential. A laptop that meets all requirements, on the other hand, is often prohibitively expensive. The best way is to buy a laptop and computer with a personal loan. With its faster approval and disbursal of funds, you won't delay getting hold of your dream computer.