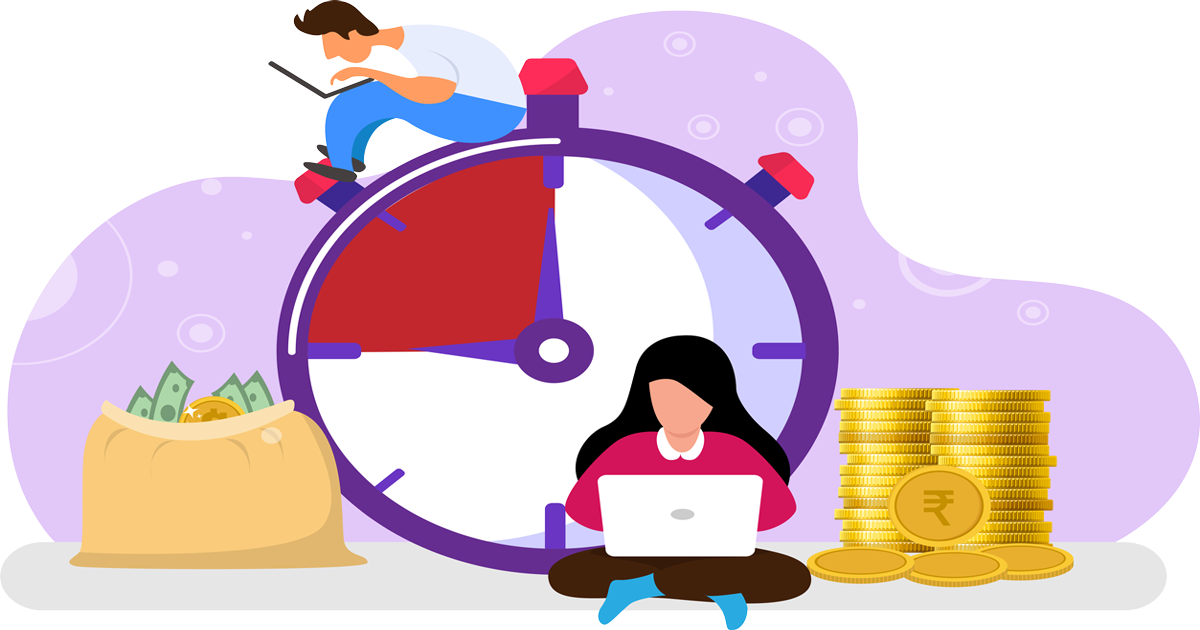 Short term personal loans are specially provided by Banks or private lenders. The lender provides loan to deal with financial situations in a shorter shorter period of time. This might be due to sudden medical emergencies or any other unforeseen expenses that crop up when least expected. These unexpected expenses have often resulted in many people being unable to meet their monthly commitments on time or repay loans already taken earlier.
When you face such financial difficulties and require some cash, there are many options available to you. You can apply for a short-term loan from a bank for your needs. The loan might come in handy and save you in the long run.
What is a Short-Term Loan?
A Short-term loan is a loan that is issued for a period of up to 1 year. It has been designed to ensure that the borrower meets his obligations to the lender. Also ensures that he does not take advantage of such loans for longer than this duration.
Most short-term loans in India are given by banks as they have been mandated to do so by the Reserve Bank of India (RBI) with regard to loan amounts. The restrictions on such loans are set by RBI at 10% per annum, which is far lower than other available options.
Types of Short-Term Loans in India
These are some types of short-term loans in India you have to know:
Trade credit
This is when you borrow the funds needed to buy goods or services from a company or person to complete a trade deal. This can be done for a short duration of time. The loan amount is usually agreed upon at the beginning of the purchase, and subsequent payments are made on a monthly basis.
Borrowing money in order to pay off your debts is typically referred to as an unsecured loan. Unsecured loans can be obtained by making a personal guarantee of your debt with the financial institution issuing such loans. These types of loans tend to have higher interest rates than secured loans and are considered riskier.
Bridge Loans
Individuals and companies with assets likely to be lost can apply for a bridge loan. It is an unsecured loan that is intended to enable the individual or business to remain operational while they wait for their asset to sell.
Short term loans are the best options available to you if you have been in financial distress for a long time and need some cash urgently.
Demand Loans
This type of loan is given to those with legitimate reasons for taking out the loan. Since these loans are meant for those who really need them to repay their debts. They tend to be less expensive than many other unsecured loans.
It can assist you in meeting financial obligations, especially if you are running out of time.
A short-term loan is helpful for various reasons, but mainly because of the features that come with it. Plus, getting a personal loan will ensure you enjoy all these benefits and other discounts.
Bank Overdraft
In India, many people have accounts with banks and use these accounts for various purposes. People often need to borrow money from their bank accounts to meet their financial needs. Such loans are called Overdrafts, and this is how the bank agrees to lend you the money (even though you already have an overdraft with them).
Whenever you need some cash urgently, you can secure a loan from your bank as long as it does not exceed 50% of your available deposit balance in that account. The loan amount will be cleared directly into your account monthly at the bank's discretion.
Eligibility to Short-Term Loans in India
If you are looking to buy a home, start up your own business, or need some cash. You should definitely secure a personal loan. Personal loans have become the most preferred option among individuals who do not want to get into the hassle of having to deal with banks and financial institutions when they need some cash urgently.
However, you must keep in mind that an individual must meet certain eligibility requirements before he is eligible to avail of such loans.
Your Monthly Income:
Your income will be considered by your potential lender and is one of the most important factors they consider. An individual's income can be used to assess how financially sound a person is. If you have a high income and work in a salaried job, you might get approved for a higher amount than someone who has just started working or does not earn as much.
Your Financial History:
Your credit history with banks and financial institutions can also impact your eligibility to avail of such loans. Your bank or your potential lender will always look at your bank records to determine whether you have repaid any loans on time in the past. Good credit history could increase your chances of getting fast cash over other individuals who have not had so much luck with repaying loans in the past.
PAN: you need to have a PAN card and a bank account to apply for a personal loan.
Proof of Residence
Your identity, address, and proof of residence are all established by your bank when you open an account. Your bank will ask you to provide your address proof. You must ensure that these documents are available at all times.
Other documents: In order to make sure that there is no discrepancy in the documents that the applicant provides. You must also provide other supporting documents such as a financial statement of your income, utility bills, etc. Such documentation can prove to be extremely helpful in determining whether or not an individual is eligible for a personal loan.
Interest Rates on Short Term Loans in India
As mentioned earlier, the interest rate on such loans is much lower compared to other types of loans because these are given to those who have the need for immediate cash and who have proven themselves in terms of financial responsibility.
The criteria for eligibility similarly vary across these categories based on the purpose for which you want to borrow the money. For example, home loans require higher amounts of security, as a proportion to the loan amount, than perhaps an auto loan which requires lower amounts. The interest rate charged can also vary based on the category.
In most cases, trade credit loans are provided by banks at a rate of 10% per annum, which is lower than the rate of interest that you would be charged for borrowing money from a bank. Borrowers that have a very bad history of repaying their debts might qualify for even lower rates in order to ensure that they do not go into negative equity.
Short Term Loans Tenure in India
The tenure of the loan depends on the purpose for which it is being borrowed. There are various types of loans that come with different repayment tenures.
Payday Loans:
These are the most common types of short-term loans that are provided by banks, financial institutions. Lenders at a rate of 1% to 6% per month. Such loans have extremely high-interest rates compared to other short-term loans because they are given to individuals who have an unstable income or a poor financial history with banks and financial institutions. However, such loans can also be provided by a lender for as long as 6 months at a time. However, if you do not repay your loan on time, such lenders might report this to credit bureaus, and this can affect your credit score.
Periodic Payments:
These are the most common type of loans that are secured by property in India. These loans will be granted to individuals who have a home or other property that they own. Such lenders will take the security of the property as collateral for the loan and will require a certain percentage to be paid back every month. The repayment period could either be for 2 years (for some loans) or 5 years (for others).
Installment Loans: 
These are the most common types of short term loans that are secured by other personal assets such as furniture, cars, etc. Most lenders require the borrower to deposit a certain percentage of their property as collateral for the loan and make periodic installments to be paid every month.
How to Apply for a Short-Term Loan in India
In any case, where the borrower is not directly in need of the funds, they are legally bound to use them for asset purchase or refinance debt. Prior to applying for a short- term loan. The lender may ask the borrower a few questions regarding how they plan to use the loan proceeds.
Lenders can ask about whether or not you intend to use the loan for essential expenses as opposed to fanciful ones. In addition, lenders may inquire about your ability to repay the loan on time; failure to do so will result in increased interest rates and potential repercussions from your bank.
If you are interested in applying for a short-term loan, there are three ways to do that. Either online, download an app , or call customer care.
Online Application Process:
If you are interested in applying for a short-term loan online, you will have to fill up an online application form. Fill out all the details such as name, address, and bank account number. After that, you have to provide the necessary documentation and proof of your financial status, including an Income Tax Return (I-T) document, current bank statement showing balance, etc.
Apply Through Loan Apps:
There are many apps that you can download to your Android or iOS device which will allow you to apply for a short-term loan. All you have to do is enter your details and submit the documentation online. In some cases, these apps will even let you know what your eligibility is based on the details that you provide.
Call in:
You can also call into a call center of the bank or financial institution and tell them what amount of money you want to take and for which reason. They will ask for your personal details, such as name, age, income, etc. Ask for certain documents that they need in order to be able to assess whether or not they will be able to approve it.
It is important to know all the different aspects of taking out a loan before you make any final decisions about doing so. Make sure that you understand what your financial situation is before you take out such an instrument because it can be difficult for individuals to repay some types of short-term loans.
Conclusion
The short-term loan industry in India is growing very rapidly. This is because most people who have taken out such loans are happy about their experience with them. If you are in dire need of money urgently, you can easily get a loan that meets your needs with minimal paperwork. Short-term loans can be used to pay off debts or even buy something. It's a great resource for temporary relief.
There are several companies that offer short-term loans in India. All of the companies have a different set of terms and conditions. Different interest rates depending on the type of loan, and different repayment plans. Depending on the type of loan taken out by an individual and his intentions for repaying it. Some loans are beneficial to borrowers while others are not so beneficial.
Some people who use short-term loans for this purpose keep these loans as a one-time payment that they will move on from once they fulfill their immediate needs (asset purchases, budgeting, etc.). Other people use these types of loans to help them build wealth over time. This typically involves paying off their short-term loans, and then the loans will keep getting refinanced over and over again. Short-term loans can be useful if you have an urgent need for cash. The best part is that this kind of loan is that, you can get it for a short time when you apply.