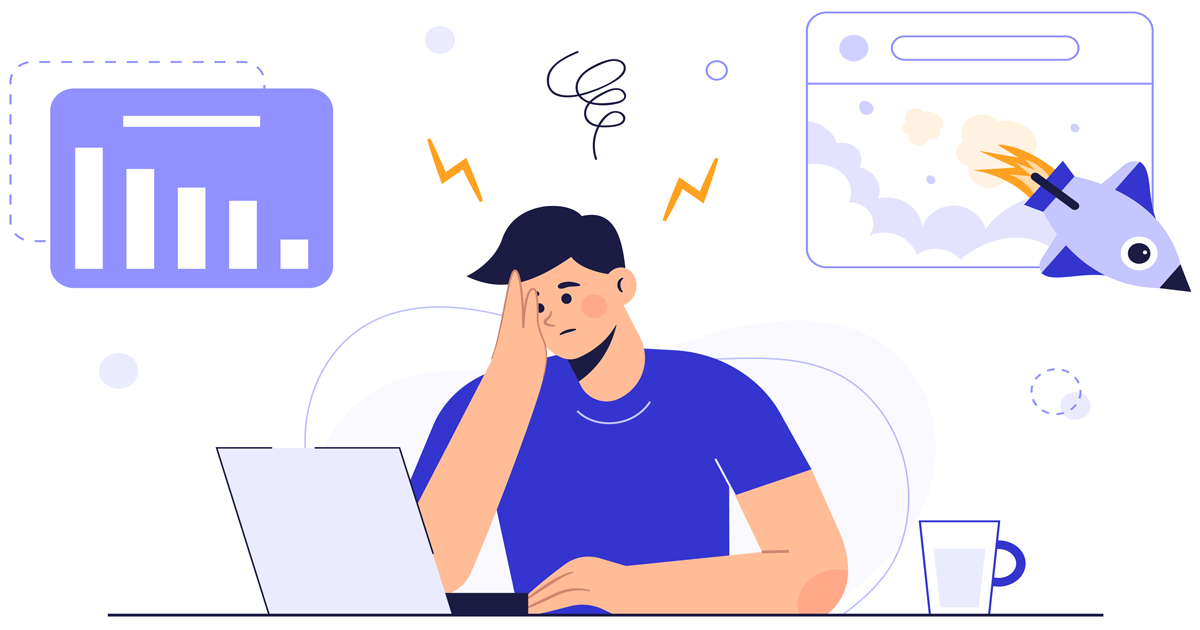 With the recent increase in unemployment rates, personal loans have become a more pressing issue. When people cannot afford to live with what they earn, they are forced to look for other financing methods. But with an already limited supply of money from lending institutions and strict rules, it is not surprising that some people may be denied the loan.
If you happen to be denied a personal loan, know that you didn't meet the specified eligibility criteria for such loans. No lender can deny a person a loan without a concrete reason, so don't be disappointed if you cannot obtain a personal loan.
Personal loan rejection happens a lot and there are many reasons why that may happen.
8 Common Reasons for Personal Loan Rejection:
1. A Low Credit Score
If you are eager to apply for a loan, the first step should be to check your credit score. A credit score is a number that represents to what extent you have paid back other loans and debts. This number will form the basis of how easier you can take out a loan in the future. If you have a CIBIL score of above 700, then you qualify to get a personal loan. If your score is below that, you will have a hard time getting approved for a loan. Lenders will only give you money if there is a large chance that they can get it back from you. This can be a problem if your score is too low, which usually means that you have missed or failed to pay some loans in the past.
2. A High Debt-to-Income Ratio
Even if your credit score is high enough to alleviate any other barriers, the lender may still deny you a personal loan based on your debt-to-income ratio. If your income is lower than your debts, then you have no chance of getting a personal loan.
3. A Low Income
A low income can lead to personal loan rejection. If your income is below the required minimum amount, you won't qualify for the loan. It is important to know that even if your credit score might be good, you can still be rejected for a loan if you don't get a regular income each month. Lenders won't take the chance of giving money to people who don't qualify for the same loan.
A monthly minimum income is needed to be able to borrow money. Your loan provider might decide they don't want to risk lending money to people who might not be able to pay it back. This minimum amount will vary depending on every financial institution. To qualify for a loan at lendingplate, you must be earning a minimum salary of ₹20,000 each month.
4. Poor Credit History
If you have a poor credit history, you may be denied having a personal loan. If you don't pay back debts or loans that you have already taken out in the past, it will affect your credit history. Check your credit history before applying for personal loans. The most important part of this process is checking every debt from the past few years to see how much money has been paid back and whether or not there are any more payments left.
5. Incorrect Details When Applying
If you provide inaccurate details like your name, phone number, residence and other account details while applying, the lender will most likely reject your application. So, ensure you counter-check everything before submitting your application. You don't want to miss out getting a loan just because you provided incorrect credentials.
If you wanted a loan urgently, this could put you in a tighter place. That's why it is a good idea to take your time to carefully check everything before submitting your application. Lenders need everything to be accurate before they can consider you for a loan.
6. Job Instability
The main thing that's considered when applying for a personal loan is your financial stability. Lenders might not lend their money to you if you are a person who does not have a stable job. There is no way for them to know if you will keep your job. Besides, to qualify, you must provide proof of your employment, like bank statements and a regular salary deposited in your bank account. Thus, know that a personal loan rejection happens when you have an unstable job.
7. You're Not Eligible
Besides the reasons above, eligibility may prevent you from getting a loan. This can happen if you can't prove your residence, if you are below 21 years of age, or if you have a very low income below the set amount.
To qualify for a personal loan, your total monthly income should be equal to or higher than Rs. 20 000 per month. The lender will use this figure to know if you can pay back the loan.
8. You Have Many Pending Loans
Normally, banks can access your financial profile if you've taken loans from third-party banks. If you have so many pending loans for the same account, it will be difficult for them to approve your loan application.
How Do You Qualify?
If you can't meet the set loan requirements by the lender, there are other ways of getting a personal loan. There are a few other options available to you, but the main point is that if you meet those criteria, you can still get a personal loan. If you work on your credit score and ensure you are eligible, you are sure to get a personal loan. Besides, having a regular salary and a good job will guarantee you a loan.
Lenders will want to see that you have enough money to repay the loan. They will want to look at your income and expenditure carefully and ensure that the money can be paid back on time. This is why they require you to provide data related to self-employment or salary.
If you think you need a personal loan, it is important to understand your financial situation first. That's how well off financially you are. You must sort out all your outstanding debts and take care of your credit. Without doing this, you can't be approved for any loan.
What Happens if You are Rejected?
If you are denied a loan, there is nothing you can do about it. The reason for this is that personal loan applications do not offer the opportunity to explain anything that is written on the application. Even though people might think they have explained everything correctly on the application, lenders might have different ideas.
So, you should be very open and honest with all the details because they scrutinize everything and look for any flaws. Once they find them, they will reject your application right away. Meeting their basic criteria for taking out a loan is your only breakthrough.
How Can I Improve My Chances of Getting a Loan?
There are a few things that you should do to improve your chances of getting approved for a personal loan.
1. Ensure You Have a Regular Salary
This is the most important thing lenders will look at when deciding whether or not to offer you a personal loan. The best way to prove this is by providing them with your recent bank statements. This will help them prove your income and any outstanding payments such as credit cards or loans.
2. The Number of Outstanding Debts You Have
If you have too much outstanding debt, then it will be difficult for a lender to offer you a personal loan. As mentioned before, this doesn't mean they won't, but it may be easier for a lender to approve the loan if there aren't too many outstanding things in your name.
3. Have a Good Credit Score
Something else that you can do to avoid personal loan rejection is to work on improving your credit score. This will help you improve your chances of getting approved for the loan. Getting a good credit score before applying will be an added advantage because lenders will want to see that you have no past issues with paying back loans.
If you meet all of their basic qualifications, it is possible to get a loan even if you are not employed. All that is required is for the person applying for this type of loan to have some income. It is important to ensure that your income comes from somewhere they can verify as proof of income.
Your credit score can greatly impact whether or not you get approved for the loan. It will be easier to get approved with a score of over 700 because they may decide to offer you better rates and take fewer risks in approving your application.
Personal loans are a type of lending that gives people the cash they need for particular purposes. Banks mainly give these loans through their banking relationship departments to facilitate their customers with a loan amount from their own reserves. This means they also need to ensure that the loan is repaid in due time.
You may also read this: Difference between credit score and CIBIL score
Why Get a Personal Loan?
Personal loans are very important because they provide consumers with a source of quick cash. In other words, you can use this money for any purpose that you might have, such as paying for medical bills, home improvement or buying anything else you might have deemed valuable at the time of purchase. However, it should be noted that personal loans are not intended for financing your lifestyle and must only be used when life throws something unexpected in your way.
Personal loans are usually easy to get as long as you have the required qualification. This includes income and a good credit score. Most lenders require you to pay back the loan over time at affordable interest rates ranging from 5% - 10%.
Personal loans can be very useful when they are used correctly. The main thing to remember is that these are grants of credit and, as such, should be used only as such. So, it is important to consider if they will be able to pay off your debt or replace the money you need to make ends meet. Personal loans can also unblock life problems, allow people to sustain their current lifestyle or just give the person some cash so that you get a chance to save up for something better and more efficient later on in life, for example, a house or a car.
Often, personal loans are used for emergencies. People generally have the best luck when they take out emergency loans in cash before they get desperate. This will help them get out of a life situation without getting into debt because they may still be able to pay back the loan later on when it is easier to pay it off.
Conclusion
Personal loan rejection happens due to various reasons. Even though many people think that all loans are being denied because of past bad credit, it is not true. For example, if the lender believes you will be able to pay them back when the loan is due, they might offer you a loan even if your past records show otherwise.
Personal loans are essential in modern society because they provide us with cash when needed. This is especially true if you have a budget to manage, as it will enable you to pay off your debts and save up for better things that are more expensive than these loans. But personal loans are not to be used as a free ride. As such, you must consider all the possible implications before taking out one of these loans.
Personal loan rejection is normal. Especially if you have had some financial problems in the past, as lenders will always have it in the back of their mind that you could go bankrupt, But this does not mean that you are not to get a loan. If you do everything right to improve your credit score and make sure you can pay off the loan, they might offer you a better deal.
Personal loans can help when used correctly and at the right time. In many cases, these loans greatly help people who need the money. However, it is important to remember that there is always an opportunity where you might misjudge something because these situations happen daily.