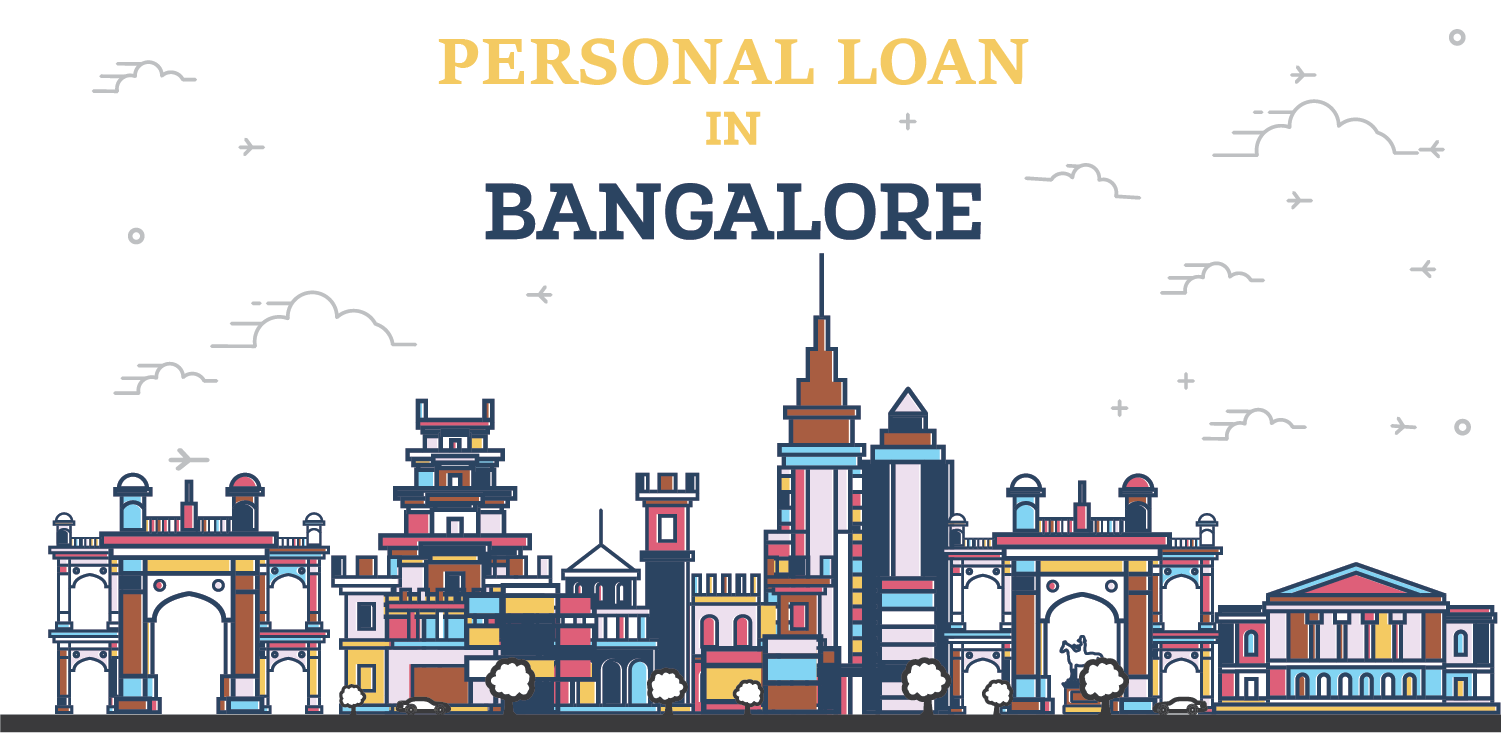 If you are residing in Bangalore, India, you know how expensive the cost of living is. The combination of a thriving education system and entrepreneurship in the Silicon Valley of India indicates that the cost of living is continuing to soar. When living in such a city, it is essential to seek assistance and plan your finances. Sometimes, you have no other option but to seek financial help from banks or lending institutions in Bangalore. The best part is that personal loans in Bangalore come at affordable rates.

Life comes with many surprises; it will throw curveballs your way when you least expect it. But that doesn't mean you cease pursuing your dreams and neglect important responsibilities. We must embrace them along the way and find a way to deal with them. One sure way to get out of any financial hurdles is to get a personal loan.

How to Get a Personal Loan in Bangalore?
Bangalore is a large city in Karnataka, India that is rapidly growing. It offers numerous job prospects and is a hotspot for startup companies, attracting individuals across India. Moreover, it boasts several exceptional banking and non-banking finance companies that offer credit facilities to those in need.
If you are on a tight budget and can't make ends meet, we understand that. The economy today isn't making things easier for individuals in any way. Having a way to get the funds when you can't get out of money-related problems is very important. The best thing about a personal loan in India is that it can be approved quickly, and you get your funds as soon as possible.
Besides, the online application process is an added plus. You only need the internet and a gadget to access the website. The documents are also submitted online, which means less paperwork.
Before applying for the loan, be sure to check the eligibility criteria of the specific lender. Usually, lenders consider certain factors when deciding on eligibility, so understand these aspects beforehand.

Getting an instant loan in Bangalore is hassle-free, as you won't have to deal with much documentation. Only a few documents to show proof.
The Eligibility Criteria to Avail a Personal Loan in Bangalore

You must know about eligibility criteria before applying for a personal loan in Bangalore; however, every lender may have slightly different eligibility criteria. You must meet the following criteria to get a personal loan from lendingplate.

The borrower must be an Indian citizen.
Be at least 21 years of age.
Have a regular monthly income of Rs. 20,000.
You should have a bank account.
Documents needed to get a personal loan:
PAN card or Aadhar to show your identity.
Bank statement to show your income.
Aadhar card, credit card, or utility bill to show your address.

Here's a step-by-step process to apply for a personal loan in Bangalore, India:
Step 1. Check for eligibility - The first step is to check if you are eligible. You can do this by checking the lender's website to see what is needed to qualify for a loan.
Step 2. Apply for the loan online - Fill in your information in the application form.

Step 3. Submit documents - Now submit all the required documents in the website's portal.

Step 4. Verification - Wait for your application to be verified for authenticity. You will then wait for loan approval and the disbursement of funds.
Banks's Personal Loan Interest Rates
| | | | |
| --- | --- | --- | --- |
| Lender | Interest Rate | Tenure | Max. Amount |
| Axis Bank | 10.49% to 22% | 12-60 months | Up to 40 lakhs |
| HDFC Bank | 10.5% to 24% | 12-60 months | Up to 40 lakhs |
| Tata Capital | 10.99% to 29% | 12-72 months | 25 Lakhs |
| Yes Bank | 10.99% to 20% | 12-60 months | Up to 40 lakhs |
Features & Benefits of Personal Loans Available in Bangalore
1. Flexibility of usage
One of the key advantages of personal loans is their flexibility in usage. You can use the loan amount as per your needs and preferences, such as weddings, business investments, home renovations, etc., unlike a home loan or auto loan, which can only be used to purchase a property or a vehicle, respectively.
2. Fast loan processing
You can apply online through the website, saving you the hassle of travelling to the bank. The application process is quick, and minimal documentation is required.

3.Instant disbursal
Once your loan is approved, you will get funds in your account within a few days. This will enable you to make those important purchases or investments instantly.
4. Easy documentation
Less paperwork is involved when getting a personal loan. You only need to provide a few documents to show proof of your identity, address, and employment.
5.Flexible repayments
You can pay off your loan in simple installments called EMIs. The payment terms are flexible, allowing you to select a repayment period that suits your needs and optimizes your monthly expenditures. lendingplate offers a personal loan with lower EMIs and tenures ranging from 3 to 15 months. The amount you will get can vary from thousands of rupees to a few lakhs. However, ensure you can repay the amount you apply for without struggle.
What Influences the Approval of a Personal Loan?
Credit score: Some lenders will check your credit score before offering you a personal loan. Besides, you have a higher chance of being approved for a loan if your score is 650 or higher.
Employment: The lenders consider your employment a crucial aspect of approving your loan. As personal loans do not require collateral, the lender will want to know if you can repay the loan in full in monthly installments. And your employment status with a regular income can be the only way to assess that. However, you must have worked with your current employer for at least one year.
Salary: Because personal loans don't need collateral, the lender will ensure you have enough income to repay the monthly installments. This includes the salary you get each month and any other income.
The lender will review your credit report to see if you have a history of being financially responsible and making timely EMI payments. If you have a history of making regular payments and meeting your debt obligations, your loan application will likely be viewed more positively.
Why Should You Get a Personal Loan in Bangalore?
Those who reside in Bangalore can attest to the high cost of living. This is because it is a very busy and developed city in India. On average, the monthly household expenditure will be approximately Rs 25,000 to Rs 40,000 in Bangalore, which covers the costs of utilities like internet and electricity bills, hiring domestic help, maintenance, and other related expenses.
It can be hard to pay for daily necessities. Luckily, you can get a personal loan in Bangalore. From tuition fees to medical costs to buying furniture, all these are within reach. Many banking options provide simple and secure applications with generous interest rates and sum amounts depending on factors such as credit score.

Here are reasons to get a personal loan:
Medical emergency - Medical emergencies can be stressful and worrisome. Such expenses can't be postponed; the only option to cover them if you don't have enough savings is to get a personal loan. With minimal documentation required for loan application and swift approval from the lender, you won't wait forever to get your funds.
Home renovations - If you want a makeover of your home or business apartment, a personal loan is what to look for. After approval, you will get the funds to revamp your abode.
Personal bills - There can be day-to-day expenses that need to be covered. For instance, you have an electricity bill to pay or want to get away from the hustle and bustle of life, and your payment is a few weeks away. The best option will be to take out a personal loan.
Debt consolidation - Handling multiple debts with different interest rates can be overwhelming. Moreover, it can be costly. With debt consolidation, you will only have one loan to repay. Instead of juggling multiple debts, why not consolidate them into one? The convenience of paying only a single debt can't go unnoticed. It will be easy to follow up on the loan, when to pay, and the remaining principal amount.
A personal loan is a useful option to get money for different needs, such as paying medical bills, wedding expenses, travelling, educational fees, or home renovations. It's a better option since it doesn't involve complicated procedures. You can obtain a personal loan in a speedy and hassle-free manner.

Words in End
That's it! You can get a personal loan in Bangalore as long as you qualify for the loan and meet the eligibility criteria. The rate is affordable, and the tenure is much more flexible for an average individual. However, choose the best lender after comparing the interest rates. The catch is that you can apply for a loan online from the comfort of your home.