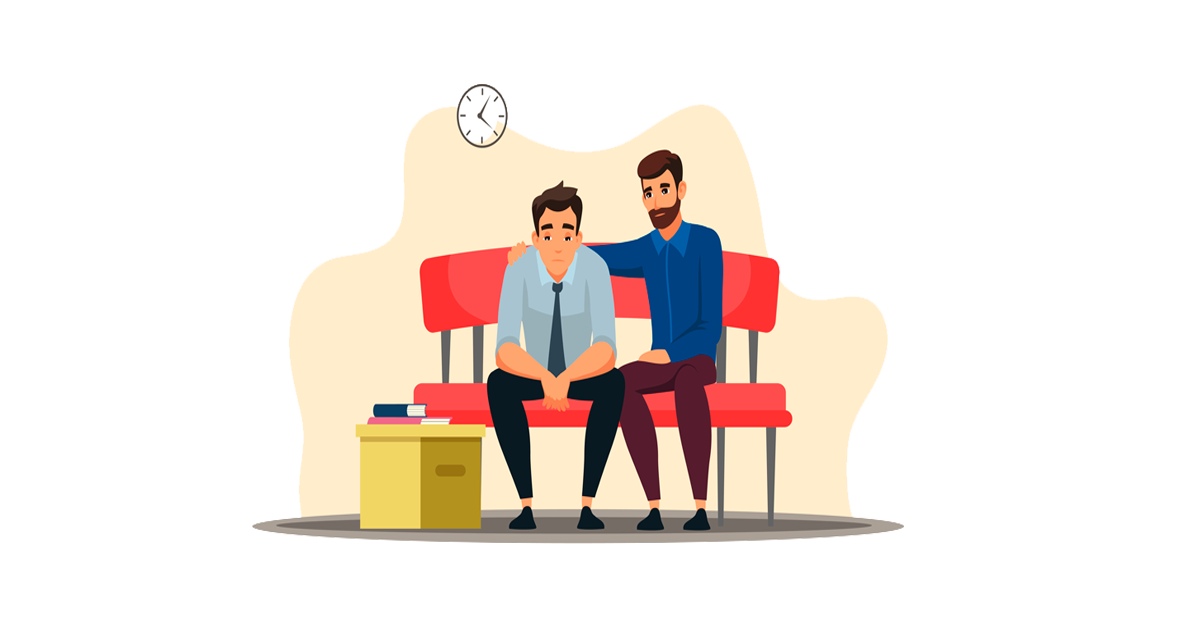 A loan for the jobless, also known as an unemployed loan, can be applied for by those who have no employment, have a job that is unreliable, or have inconsistent sources of income. The unemployed loan may have different terms, interest rates, and other features than other loan kinds.
An uncertain-income person may be eligible for a loan for the unemployed. Under specific restrictions, this type of credit can be obtained. Such loans for jobless people are available in the form of personal loans, secured loans, government loans, etc.
Types of Unemployed Loans
1. Individual Loans Secured by a Fixed Deposit (FD)
A fixed deposit could be a valuable kind of collateral if you don't have a reliable source of income. Applying for a loan against an FD is straightforward. Your FD will continue to earn interest during this time if you take out a loan between 60% and 80% of its value. Your FD acts as security for the loan, removing the need for a reliable income source.
2. Gold Loans
If you need a loan right away but are unemployed, you might want to think about getting a gold loan. It is quick and easy. Simply stroll into the local location to have a gold loan accepted at a competitive interest rate with little to no paperwork. Gold is utilised as collateral in this kind of unemployment loan.
3. Loan with Security
You must give the lender a piece of collateral as security for the loan amount in order to receive a secured loan. The worth of the asset you pledge determines how much you are eligible to borrow.
4. Payday Loans
If you anticipate finding employment soon, you can apply for a payday loan. Lenders who believe you will remain employed in the future may approve the loan.
Government Loan Programs in India for Unemployed
1. Presidents' Rozgar Yojana
This programme has been specifically created for the unemployed. The primary goal of the plan is to give unemployed people financial means to launch their own businesses in order to give them a job. Any Indian adolescent with education up to the eighth grade is eligible for the loan. The loan is composite in character; for the business and industrial sectors, respectively, loans of Rs. 2 lakh and Rs. 5 lakhs are provided.
Do you know that around 8% of Indians are unemployed? The current unemployment rate in India has decreased to 6.40% in Sep from 8.30% in Aug 2022. Here in the chart, you can see the month-wise unemployment rate.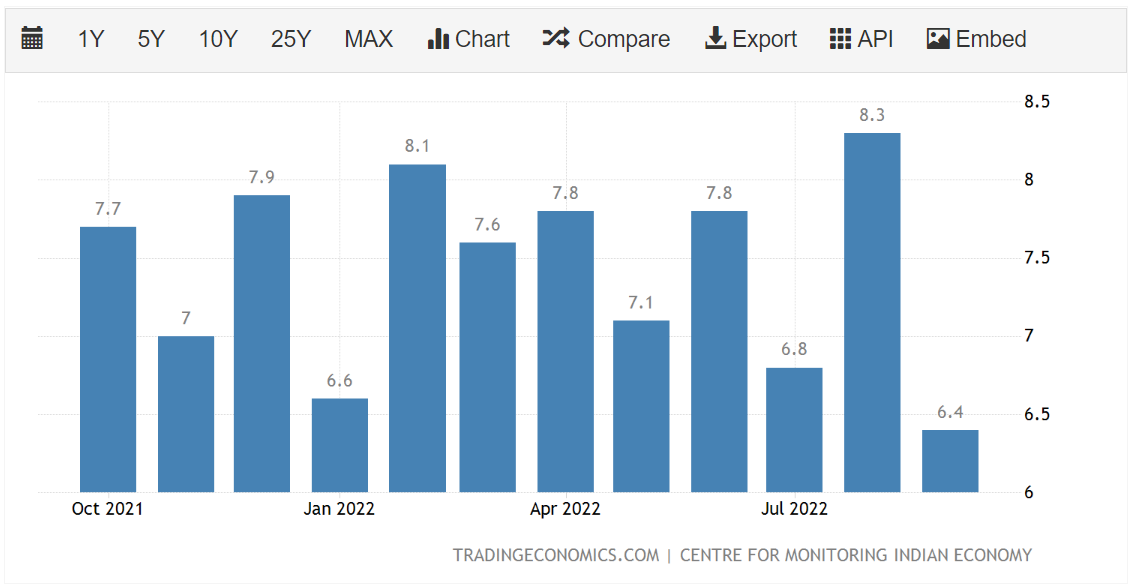 Image Source: tradingeconomics.com
2. Loan Subsidy for Unemployed Youth
Youth loan subsidies are available through the government of Tamil Nadu's NEEDS programme (New Entrepreneur and Enterprise Development scheme).
Under this programme, the state government offers graduates who are jobless a 25% rebate on loans. The bank chooses the collateral for the loan obtained through banks. The infrastructure cost of the project cannot exceed 25% of the loan; the project's estimated cost is between Rs. 5 lakh and Rs. 1 crore.
The West Bengal government offers cash loans to unemployed people through its loan programme. A loan of Rs. 50,000 would be given under this programme.
The plan's major goal is to support young people who are unemployed in starting their own businesses or initiatives. The age range for applicants for this plan is 18 to 45.
3. Agriculture Loan for The Unemployed
The government has partnered with numerous banks to offer financial resources to unemployed agriculture graduates. Agriculture loan for the unemployed, you can use this loan for any type of agricultural enterprise.
Any agricultural graduate who is unemployed and over the age of 22 is eligible for this loan.
Eligibility for Unemployed Loan
Banks want general documentation from applicants, including proof of identity, age, address, and income. Information about the registration of businesses and other financial records.
Regular Revenue
It can be difficult to demonstrate a consistent income when you're unemployed, but it's not a deal-breaker.
You might be able to get accepted if you can demonstrate that you have reliable income from other sources and good credit. Alternative sources of income outside of employment may be taken into account by lenders.
Credit Report
Lenders would look at your credit history to determine how frequently you have made on-time payments in the past and to check for any potential bad reports.
Credit Score
When someone asks for a loan, the lender will consider a number of crucial factors, one of which is their credit score. Your prospects of getting a loan are greatly influenced by your credit score, often known as CIBIL score. If you have a decent credit score, your chances of being approved are higher. Read a published post about the difference between Credit score and Cibil score.
Documents Required for Unemployment Loan
When applying for an unsecured business loan for unemployed people, the following documentation must be submitted:
ID Verification
Passports, PAN Cards, Aadhaar Cards, Voter ID Cards, Driver's Licences, Photo Credit Cards, Government-issued Photo ID Proof from the Federal and State Governments, Defence ID Cards, etc.
Household or Business Proof
Documents such as an Aadhaar card, a ration card, a passport, a bank account statement, a voter identification card, a letter from a recognised public authority, a water bill that is no older than three months, a telephone bill, an electricity bill, and so on.
How Can You Get a Loan Without Income Proof?
Personal loans are frequently referred to as "instant personal loans" because of their speedy disbursement and unsecured nature. Most lenders will provide you one if you match the criteria and present a few supporting documents, such as identification that shows your identity, address, and source of income.
However, even if you are unable to give proof of your income, some lenders will still offer you an online personal loan.
Here's how to obtain a loan without providing proof of income.
Income from Unrelated Sources
Mention any additional revenue streams you may have in your application if they might help demonstrate your ability to repay the loan. You can show the extra income you receive from sources such as rental income, spousal or parental income, or interest from investments.
Considering Your Cibil Score
A credit score of 750 or higher demonstrates your creditworthiness. You might be able to get approval and reasonable personal rates of interest without having to present any income documentation.
Co-applicants or Guarantors are Required
By including a co-applicant or guarantor on your loan application, you improve your chances of being accepted. Additionally, since the lender will consider the co-applicant's capacity for repayment, it might be possible for you to qualify for a bigger loan at a more favourable personal loan interest rate.
Maintaining a Closer Relationship with The Lender
If you have a current or savings account with the lender and regularly make purchases through such accounts, it will help develop confidence and boost your chances of getting a quick loan without submitting proof of income.
Additionally, to improve your chances of approval without income proof, make sure you meet all other standards and supply the necessary documentation.
Alternatives to Conventional Loans Being Found
There are a few alternative loans to take into account if you're having trouble getting an emergency loan because of bad credit or income problems.
A home equity line of credit (HELOC) uses the equity in your home, which is the value of your house less the remaining mortgage balance, to enable you to access a line of credit for a predetermined period of time.
Another option for getting emergency cash utilising a valuable asset is a car title loan. A car title loan uses your vehicle as collateral rather than your home's equity like a HELOC does.
Benefits of Having Unemployed Loan
Other benefits of getting unemployed loan from us include:
Given that direct lenders are willing to take them, you can use the benefits to pay back the loan.
You may use government assistance for routine financial needs while maintaining loans for others.
These days, loans might give you immediate financial relief with less commitments.
Even though applying for medical emergency loans for the unemployed can be difficult, it's not impossible. Determining what counts as income for the many sorts of loans available is frequently the most difficult step. Most of the time, any regular source of income counts, even if it comes from a different source like alimony, child support, recurrent interest, or your spouse's salary.
If everything else fails, there are other cash loans accessible, such as payday loans, cash advances, and vehicle title loans, that almost never require income verification and don't take your credit history into account.
Conclusion
Anyone who lacks a job, has a job that is unstable, or has irregular income sources may apply for a loan for the unemployed, often known as an unemployed loan. The terms, interest rates, and other elements of the unemployment loan may be different from those of other loan types in India. Documents needed for an unsecured business loan for unemployed borrowers include proof of identification, business and household bills, and a credit report.
If you lack documents proving your source of income, you might still be able to apply for a quick personal loan. If you meet the requirements and provide the required documentation, some lenders will nevertheless extend you an online personal loan. Your ability to repay the debt can be demonstrated through more income from unrelated sources.